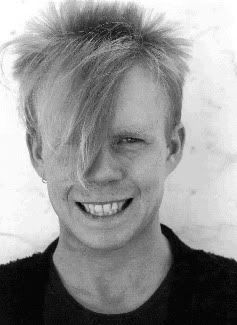 What straight man has given more to gay music than Vince Clarke?
As part of
Depeche Mode
,
Yazoo
, and finally
Erasure
, Vince Clarke is responsible for much of the world's cardio; my Body Mass Index* and I will be forever grateful to you, sir.
(True Story: When I once asked for this haircut - way back in those halcyon days of
circa
1984 - my mother almost died. Alas, she lived, and I never got the haircut. Now I haven't got enough hair to complete this look, but if I ever do get hair plugs it'll be so that I can, and this time the old bag can just suffer...)**
*Or at least the Body Mass Index I had when I was 20...
**Kidding...

*
share on:
facebook