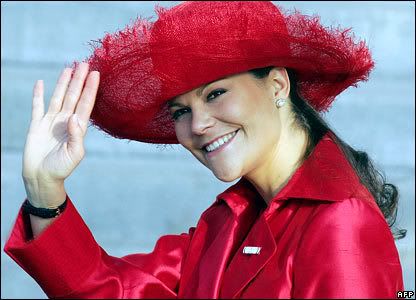 Sweden's Crown Princess
Victoria
, Duchess of Västergötland, today turns 33.
Currently the only female heir apparent in the world, the laws of Sweden had to be changed in order that she might someday be Queen; the country's
Ståndsriksdagen
amended its 1810
Successionsordningen
* in 1980, making her heir apparent to the detriment of her younger brother
Carl Philip, Duke of Värmland
. No less a personage than Victoria's father, King
Carl XVI Gustaf
, was said to oppose the change, mainly because it occurred after his son's birth rather than before. The King's position on the matter was at the time the subject of some comment in the Swedish press.
The great-great-great granddaughter of a certain other
Queen Victoria
, unlike her namesake predecessor the world's next Queen Victoria is a jet-setting fashion plate who overcame anorexia while simplifying a once complicated love life... In June 2010 Her Royal Highness married
Daniel Westling
**, a fitness entrepreneur to whom she has been romantically linked since 2002; following their honeymoon the royal newlyweds will make their home at
Haga Palace
.
*Act of Succession, duh!
**Westling became Prince Daniel, Duke of
Västergötland
,
upon his marriage.

*
share on:
facebook