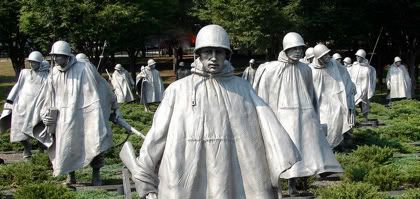 1214
- At the
Battle of Bouvines
King
Philip II
of France made the most of his home court advantage by defeating England's King
John
; it was as much his lack of military prowess (on abundant display here) as his dictatorial style that would lead to King John's being forced to sign
Magna Carta
within a year.
1549
-
A ship bearing Jesuit
priest and missionary
Francis Xavier
reached Japan.
1953
- The
Korean War
ended when representatives of the United States, the People's Republic of China, and North Korea signed an armistice agreement;
Syngman Rhee
, president of South Korea, refused to sign but pledged to observe the armistice.
1976
- Former Japanese prime minister
Kakuei Tanaka
was arrested on suspicion of violating foreign exchange and foreign trade laws in connection with the
Lockheed bribery scandals
.
1977
-
Boris Yeltsin
- party boss in the Sverdlovsk region and acting on orders from Moscow he later claimed to have disagreed with - had
Ipatiev House
in Ekaterinburg bulldozed; regular readers of the
Pop Culture Institute
will remember Ipatiev House as the place where Tsar
Nicholas II
, his family and servants were executed. After the fall of communism the
Church of All Saints
was built on the site to honour the martyred Romanov royals.
1981
-
Ken Barlow
married
Deirdre Langton
on
Coronation Street
, which sparked a nationwide mania and had 24 million viewers rapt in front of telly, like.
2007
- News helicopters from television stations
KNXV
and
KTVK
collided in mid-air
above
Steele Indian School Park
in central Phoenix while covering a police chase; there were no survivors among the four men in the air - KTVK pilot Scott Bowerbank and photographer Jim Cox and pilot Craig Smith and photographer Rick Krolak of KNXV - but thankfully no one on the ground was hurt. Not only was this was the first known such incident, it remains the worst civil aviation incident in the history of that Arizona city.
*
share on:
facebook