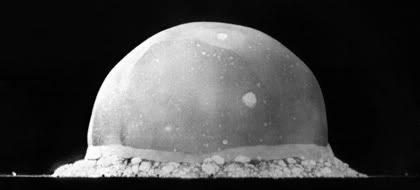 [

Known as '

the gadget

' the nuclear device detonated at the

White Sands Proving Ground

during the

Trinity Test

produced this fireball about 200 meters (600 ft) wide at the 0.016 second mark; for a sense of scale consider that the tiny black dots along the bottom of the photo are trees.

]
1377
- England's 10 year-old King
Richard II
was crowned at
Westminster Abbey
, having succeeded his grandfather
Edward III
on June 22nd.
1769
- Father
Junipero Serra
founded
Mission San Diego de Alcalá
, the first of 21 missions to be founded by the Spanish in
Alta California
; it would later evolve into the city of
San Diego
.
1782
-
Wolfgang Amadeus Mozart
's opera
The Abduction from the Seraglio
debuted at Vienna's
Burgtheater
.

1790
- With the signing of the
Residence Act
, a site was established alongside the
Potomac River
which would later become the
District of Columbia
.
1880
-
Emily Howard Stowe
became Canada's second woman doctor - having already obtained a degree in New York State after being refused entrance at any Canadian university; Stowe's daughter,
Augusta Stowe-Gullen
, would become the first Canadian woman to earn her degree in Canada. The country's first woman doctor,
Jennie Kidd Trout
, was a friend and colleague of Dr. Stowe's, and with whom she endured the appalling behaviour of the all-male medical establishment.
1931
- Ethiopia's Emperor
Haile Selassie
signed his country's first constitution, which provided for a bicameral legislature, as well as holding the governing nobility to democratic (as opposed to autocratic) standards.
1935
- The world's first
parking meter
- itself the invention of one
Carl C. Magee
- was installed in Oklahoma City.
1942
-
During the Nazi Occupation of France
the
Vichy Government
ordered French police to round up between 13,000 and 20,000 Jews, then imprisoned them in the
Winter Velodrome
as part of its Operation Spring Breeze, also known as
Rafle du Vel'd'Hiv
; following their transfers to
Drancy
,
Compiègne
,
Pithiviers
and
Beaune-la-Rolande
concentration camps, those seized were sent to
Auschwitz
, from whence very few returned.
1945
- The
Atomic Age
began when the United States successfully detonated a plutonium-based nuclear weapon
near
Alamogordo, New Mexico
, as part of the
Manhattan Project
. Within weeks, this terror of the modern age would be
unleashed
upon Japan, first at Hiroshima and then at Nagasaki...
1948
- The city of
Nazareth
, hometown of
Jesus
, capitulated to Israeli troops led by
Ben Dunkelman
during
Operation Dekel
, after little more than token resistance, during
1948 Arab-Israeli War
.
1951
- In order to preserve the monarchy in postwar Belgium, the unpopular
Leopold III
, King of the Belgians, (who had surrendered to the Nazis in 1940 rather than see his country bombed to shit) abdicated in favour of his son, who came to be known as
Baudouin I
.
1957
- US Marine Major
John Glenn
flew an
F8U Crusader
supersonic fighter jet from California's
NAS Los Alamitos
to
Floyd Bennett Field
in New York; in all the flight took 3 hours, 23 minutes and 8 seconds, and set a new transcontinental speed record.
1969
-
Apollo 11
- the first
manned space mission
to land on the Moon - was launched from the
Kennedy Space Center
at Florida's
Cape Canaveral
with
Neil Armstrong
,
Michael Collins
, and
Edwin Eugene 'Buzz' Aldrin, Jr
on board.
1979
-
Saddam Hussein
became President of Iraq following the resignation of General
Ahmed Hassan al-Bakr
.
1994
-
Comet Shoemaker-Levy 9
collided with Jupiter; impacts would continue until July 22nd.
1999
-
John F. Kennedy Jr.
, his wife
Carolyn Bessette Kennedy
, and her sister
Lauren Bessette
were killed when the
Piper Saratoga
aircraft Kennedy was piloting crashed into the ocean near
Martha's Vineyard
.
2004
-
Millennium Park
, considered Chicago's first and most ambitious architectural project of the early 21st Century
, was opened to the public by Mayor
Richard M. Daley
.
2005
-
J. K. Rowling
's
Harry Potter and the Half-Blood Prince
was published; worldwide, the book sold in excess of a quarter million copies
an hour
in the first 24 hours after it was released.
2007
- An
earthquake
of magnitude 6.8 and with aftershocks of 6.6 occurred off the
Niigata
coast of Japan, killing 8 people with at least 800 injured and damaging a nuclear power plant.
*
share on:
facebook