I'm a ho...Er, I mean
Idaho
Senator Larry Craig says he's not gay. He claims that all that shuffling and note passing he was doing in the men's can was innocent and misinterpreted. Next he's going to say he invited only the guy to caucus with him, and was misunderstood due to lousy acoustics.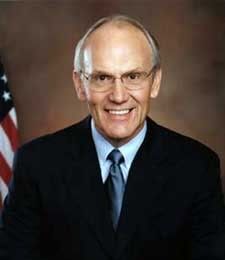 I have news for Senator Craig. I'm actually gay and nothing I've ever done in the men's can has ever been misconstrued by anybody. Where there's smoke, there's fire, and in this case, it's your pants. They are definitely on fire, Senator Hot Pants.
When will Republicans ever learn that GAY does not mean "wears a tight shirt and lisps"; GAY means "gimme more of the same, genital-wise, please". Frankly, I'm getting tired of repeating myself. For the fortieth time, gay is not a lifestyle, it's a predilection.
Your marriage does not make you straight, nor does your saying that you are. What
does
make you straight is... See if you can follow me... Not angling for furtive mansex in the men's can with cops. I mean, I may be gay, but that's just nasty.
Of course, the cop
is
a blonde. You may not know this about me, but I'm not partial to blondes. Well, only the women: you know, Marilyn, Diana, Pam -- Oh, sorry Senator. I know how you get when people start talking about women. Would you like a Tum's?
share on:
facebook