I've only just returned from the rooftop of the building I work in, where I've been shouting about the long-awaited purchase now clammying up my hot little hands. For those of you who think I'm exaggerating, I know at least one very traumatized seagull who will beg to differ. The poor thing; I'm sure not even Gonzo could calm her down now.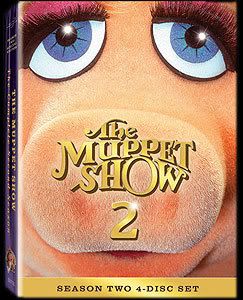 If the previous paragraph seemed a little silly to you, either a) you haven't been reading this blog for long, or b) you are unaware of the effect The Muppets have on kids of all ages (not just me).
For five years (from 1975 until 1980) Jim Henson's felt and foam and funfur coterie infected their syndicated corner of television with a riotous, anarchic energy. Aided by guest hosts,
The Muppet Show
assayed vaudeville and popular music with an aplomb seldom seen before or since.
Season 2 features such classic guest stars as Don Knotts, Milton Berle, Madeline Kahn, Bernadette Peters, Elton John, and John Cleese, among 18 others, and is loaded with special features besides.
But wait, that's not even the best part. Turns out the
most sensational, inspirational, celebrational, Muppetational
show of my childhood is even better than I remember it, mostly because now I get
all
the jokes.
share on:
facebook