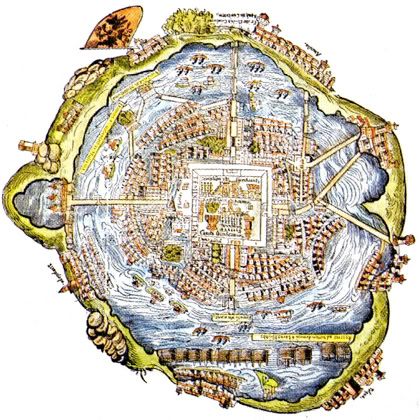 [
As this map shows, the Aztec city of Tenochtitlan was a marvel of

civil engineering; alas, it was built by ignorant pagans, and so

it had to go. Currently it - and
Lake Texcoco
, in which it was
built - now reside several layers beneath Mexico City.
]
1521
-
Hernan Cortes
finally succeeded in capturing the
Aztec
capital,
Tenochtitlan
, having destroyed much of it in the process of a ten-week siege; the city would be rebuilt - albeit far less efficiently - along the lines of a Spanish city, and many of Mexico City's problems today (chief among them a copious and stable water supply) can be traced to this event.
1553
-
Michael Servetus
was arrested for heresy in Geneva at the instigation of
John Calvin
; although Servetus was many things - including one of the most learned men of science and medicine of his day - he hadn't yet learned that being smart was (and still is) a pretty good way to fall foul of religious authorities, whatever their denomination. Following a brief show trial, Servetus would be burned at the stake on October 27th (which I'm sure is what Jesus would have done).
1704
- During the
War of the Spanish Succession
, English and Austrian forces commanded by the
Duke of Marlborough
and Prince
Eugene of Savoy
were victorious over those of France and Bavaria led by
Duc de Tallard
,
Ferdinand de Marsin
, and
Maximilian II Emanuel
at the
Battle of Blenheim
. For his efforts, Marlborough was awarded the
Park of Woodstock
by
Queen Anne
and given £240,000 to build a house within it; to this day
Blenheim Palace
is the only palace in Britain not held in trust for the Nation by the Royal Family, and still serves as the seat of the Dukes of Marlborough.
1792
- France's King
Louis XVI
was formally arrested by the National Tribunal, declared an enemy of the people, and imprisoned at the
Temple
; he would soon be joined there by his queen
Marie Antoinette
, his heir (the erstwhile
Louis XVII
), his daughter
Princess Marie-Thérèse
, and his sister
Madame Élisabeth
.
1814
- The
Convention of London
- a treaty between the United Kingdom and the
United Provinces
- was signed by
Robert Stewart, Viscount Castlereagh
and Hendrik Fagel in London.
1913
-
Otto Witte
may or may not have been crowned King of Albania; his training as an acrobat, which should have more than qualified him to rule, somehow didn't, although his megalomaniacal fantasies later made him something of a celebrity in Germany*.

*Who knew Germans could be so entertained by the megalomaniacal fantasies of a mad man? Go figure...
1918
-
Opha Mae Johnson
became the first woman to enlist in the United States Marine Corps; more than 300 others followed her on that first day alone.
1920
- During the
Polish-Soviet War
the
Battle of Warsaw
began; it took the army of the
Second Polish Republic
- commanded by
Józef Piłsudski
,
Tadeusz Rozwadowski
, and
Władysław Sikorski
- twelve days to defeat the
Red Army
troops of
Leon Trotsky
,
Mikhail Tukhachevski
, and
Semyon Budyonny
.
1937
- The
Battle of Shanghai
- the first of the twenty-two major engagements fought between China's
National Revolutionary Army
and the
Imperial Japanese Army
during the
Second Sino-Japanese War
- began.
1940
- The second phase of the
Battle of Britain
began, when
Luftwaffe
fighters bombed British coastal airfields as part of
Unternehmen Adlerangriff
, or Operation Eagle Strike.
1960
- The
Central African Republic
declared its independence from France.
1961
- Berliners
awoke
to find their
city
divided
.
1968
-
Alexandros Panagoulis
attempted to assassinate the Greek dictator
Colonel
Georgios Papadopoulos
in the town of
Varkiza
, south of Athens.
1973
-
Zulfikar Ali Bhutto
was elected Prime Minister of Pakistan.
1977
- At the so-called
Battle of Lewisham
protesters opposed to Britain's far-right
National Front
clashed
with the neo-fascist group during an attempted march from
New Cross
to
Lewisham
in southeast London; despite employing their fancy new riot shields for the first time ever in the UK outside of Ulster - shields which would become a common enough sight in British streets over the next decade - 55 of the more than 3,000 members of the
Metropolitan Police
on hand that day were among the 111 injured, while more than 200 arrests were made from among the more than 5000 National Front supporters present and the 400 or so members of the
Socialist Workers Party
opposed to them taking their bigoted, ignorant hate-mongering to the streets.
1979
- The roof of the uncompleted
Rosemont Horizon
near Chicago collapsed, killing 5 workers and injuring 16.
1985
- Three-year-old Jamie Gavin
became
the youngest person ever to receive a heart-lung transplant, at London's
Harefield Hospital
.
1991
-
The Prince of Wales
resigned as patron
of the
Museum of Scotland
all a-flap over architecture or some damn thing.
1996
- Belgian sex offender
Marc Dutroux
, his wife
Michelle Martin
, and
Michel Lelièvre
were arrested on suspicion of kidnapping 14-year-old Laetitia Delhez; all were eventually found guilty in June 2004, and sentenced to terms of life, 30, and 25 years, respectively.
*
share on:
facebook