After a lifetime of reading well above my grade level, I'm only just now able to follow the works of William Faulkner. It's not just that the writing is so showy - 'look how smart I am' is proclaimed on every page - it's that the subject matter is also heavy.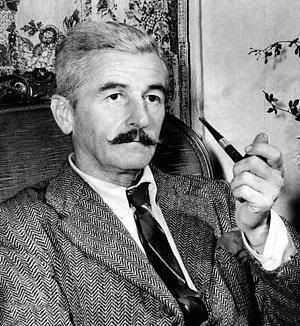 There isn't a Faulkner novel that isn't fraught with taboo themes; as shocking as these would have been to audiences of the 1930s and 1940s, they still contain the power to startle today. If you feel sex, religion, and politics are no suitable topics for civilized discussion then by no means should you read anything by William Faulkner.
Of course, most writers try to make sense of the world by forcing its people and events into some kind of linear form, by pulling a single strand from the weave of life and by studying it gleaning some insight into the whole; Faulkner seemingly took what little linearity he could find in the world around him and shattered it back into chaos through his work.
These days, a journey into
Yoknapatawpha County
isn't fraught with nearly as much fear as it was when first I visited there in Grade Ten. It's still not my favourite place to visit, but nor do I find myself going out of my way to avoid the place any more either. Of his novels, 1929's
The Sound and the Fury
, 1930's
As I Lay Dying
, 1931's
Sanctuary
, and 1932's
Light in August
represent both the pinnacle of his career and a gargantuan effort of creation.
Born on this day in 1897, William Faulkner was awarded the
Nobel Prize for Literature
in 1949, aged only 52; he died in July 1962 after years of serious alcoholism.
*
share on:
facebook