Vancouverites still celebrate the life of one of their own, Chief Dan George, who died this day in 1981...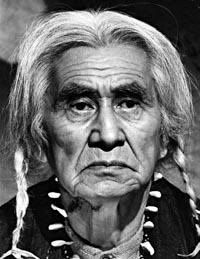 Born Geswanouth Slahoot on the
Tsleil-Waututh
reservation in North Vancouver in 1899, his name was changed when he was sent to residential school at the age of 5.
Having spent the first 60 years of his life as a labourer, Dan George was elected chief in 1951 and served until 1963, although after 1960 Chief Dan George was principally an actor. He gave an Academy Award-nominated performance in the
1970 film
Little Big Man
, and was also an author (of both
My Heart Soars
and
My Spirit Soars
).
A tireless and passionate advocate on behalf of Canada's First Nations, he was a familiar sight on Canadian television when I was a kid; his death, on this day in 1981, was one of the first celebrity deaths which moved me.
Chief Dan George's grand-daughter is the poet
Lee Maracle
, whose work is a continuation of her famous grandfather's.
*
share on:
facebook