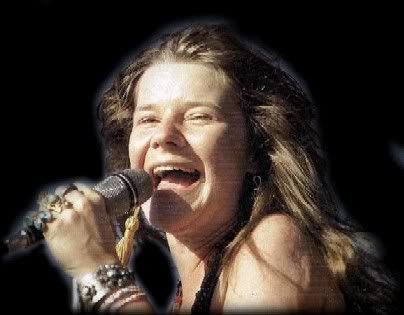 Janis Joplin gave rock and roll the blues, infusing the idiom with deeper rhythms and themes than it had previously known, and along the way gave the women who love to rock someone to look up to, artistically at least. When she succumbed to an unusually pure dose of heroin (on this day in 1970) she'd been on a drinking binge, having been unlucky in love for the last time. Arising out of the hippie counterculture of the
Haight-Ashbury
district of San Francisco, Janis Joplin was in every way the antithesis of the way the music industry wanted women to be. She was loud when women (even hippie women) were expected to be seen and not heard, she was sexually aggressive instead of passive, blunt-spoken and ballsy.
Yet as blues divas go, she was right on the money. Hard-drinking, hard-loving, and - tragically - short-lived... She died during the recording of her album
Pearl
, the day after recording
Mercedes Benz
in one take, the day before she was to have recorded the lyrics to
Buried Alive in the Blues
.
*
share on:
facebook