Born on this day in
Scarborough
, Ed Robertson (along with
Steven Page
) founded the hugely popular Canadian band
Barenaked Ladies
in 1988; their first hit, a cover of
Bruce Cockburn
's
Lovers in a Dangerous Time
, brought them their first public recognition - not to mention their first hit single - in 1991. It was their 1992 'debut' album
Gordon
(actually their fifth) that made them instant legends.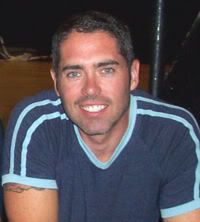 Although he has always contributed lyrically to the band (writing or co-writing many of the band's trademark catchy, clever songs) as well as harmoniously (his and Page's distinct voices blending together like caramel and cream) since 1998's smash-hit album
Stunt
Robertson has done more solo writing and singing.
Married and the father of three, when not performing with Barenaked Ladies Robertson keeps busy working for ecology, with the charity
30-Hour Famine
, and starring in his own show on Canada's
Outdoor Life Network
, called
Ed's Up
. In August 2008 he survived unscathed after crashing his
Cessna 206
, which may have been caused by wind gusts stalling the aircraft's engine; following an official investigation both Robertson and his plane were cleared of negligence, and investigators praised both Robertson's handling of the crisis (he was carrying three passengers, all of whom were unharmed) as well as his cooperation with the subsequent investigation.
*
share on:
facebook