Though her beauty alone could have made her a leading lady, it was her vivacity and sense of humour that made her not only one of the great leading ladies of the 1930s but one of that era's finest comediennes as well.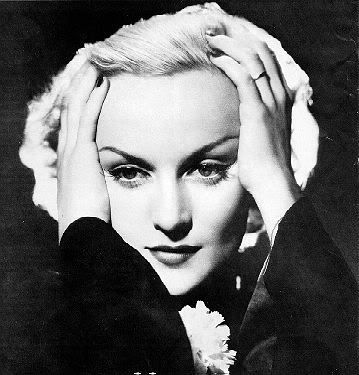 Born Jane Alice Peters in Fort Wayne, Indiana, on this day in 1908, Carole Lombard first hit the silver screen in 1921; by 1930 she was under contract to Paramount and on her way to making a string of smash-hit comedies, including
Twentieth Century
(1934),
My Man Godfrey
(1936), and
To Be or Not to Be
(1942), which was released posthumously.
As she'd bewitched the movie-going public, so too did she captivate two of Hollywood's leading men:
William Powell
- whom she married in 1931 and from whom she was amicably divorced in 1933 - and
Clark Gable
, then known as the King of Hollywood, to whom she was married from 1939 until her untimely death in
January 1942
.
*
share on:
facebook