In a parallel universe, Johnny Carson could have become a beloved sitcom star; had
Sheldon Leonard
not gotten his way,
Carl Reiner
would have cast Carson opposite
Mary Tyler Moore
in a little sitcom about a comedy writer, which Carson actually was at that time.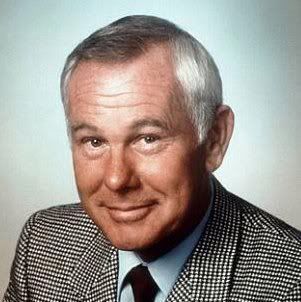 Fortunately, Leonard got his way, and
Dick Van Dyke
was cast instead.
Head of the Family
became
The Dick Van Dyke Show
, TV history was made, and by way of a consolation, Carson took over after
Jack Paar
quit
The Tonight Show
in October 1962.
Alongside his old chum
Ed McMahon
(whom he'd met while working on
Who Do You Trust?
) Carson went on to make some TV history of his own, hosting
The Tonight Show Starring Johnny Carson
for 30 incredible years, first from New York City and then, after 1972, from the NBC Studios in Burbank.
Carson's extraordinary run finally ended in May 1992, when he retired from show business to play tennis and spend more time at his Malibu home with his fourth wife, Alexis. He made one more high-profile appearance, in May 1994, during one of protege
David Letterman
's week-long trips to LA; born on this day in 1925, Carson died in January 2005 from a heart attack worsened by emphysema, complications arising from his lifelong cigarette habit.
*
share on:
facebook