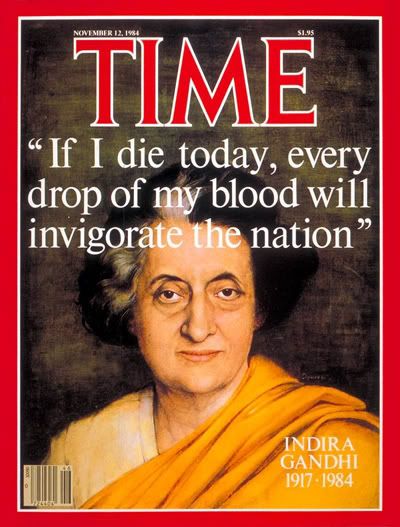 Having ordered Indian troops to fire upon the holiest
Sikh
shrine in India - the
Harimandir Sahib
(or Golden Temple) at
Amritsar
- during the disastrous and ill-considered
Operation Blue Star
in June 1984, Indian Prime Minister
Indira Gandhi
continued to employ Sikh bodyguards - for what reason I cannot possibly fathom...
It was on this day, just shy of five months to the day after Operation Blue Star had been carried out, Gandhi was walking in the garden of the Prime Minister's Residence (now a memorial to her) on New Delhi's
Safdarjung Road
, on her way to be interviewed by the British actor
Peter Ustinov
. As she passed a wicket gate, guarded by two of her bodyguards
Satwant Singh
and
Beant Singh
, they opened fire with machine pistols. A melee ensued, during which her two attackers and one other guard were killed.
Gandhi died on her way to the hospital, in her official car, but wasn't declared dead until many hours later; she was taken to the
All India Institute of Medical Sciences
, where doctors operated on her and reportedly removed 31 bullets from her body.
Almost the instant her death was announced, India erupted in
anti-Sikh rioting
, during which thousands were killed or injured, most of them Sikhs. Of this violence, Gandhi's son and successor Rajiv later said: 'When a big tree falls, the earth is bound to shake.' She was cremated on November 3, near
Raj Ghat
at
Shakti Sthal
, which means 'Place of Power'.
*
share on:
facebook