She traced the outlines of her life well enough in
Cat's Eye
(1988) so that even the most casual observer could recognize her from the shape she'd made there; still, never be fooled by any writer who uses their own facts to fill out their fiction. Often, rather than verisimilitude, it's a very personal form of subterfuge they have in mind...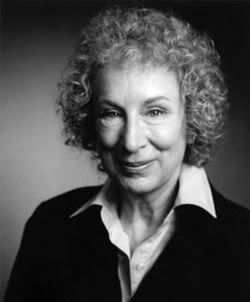 Born on this day in 1939, Atwood's childhood was peripatetic; she never attended a full year of school until the 8th Grade, when her father gave up his job as a field biologist for a professorship at the University of Toronto (if
Cat's Eye
is to be believed, anyway). An early reader - both voracious in scope and catholic in taste - Atwood began writing at the age of 16 (what we call around here 'a late bloomer'); she soon made up for her patchy education and laggard start by obtaining her university degree and self-publishing her first book of poems,
Double Persephone
, both in 1961.
By 1964 she'd won her first Governor-General's Award, for
The Circle Game
, and just like that she was off; her first novel, 1969's
The Edible Woman
is notable not just for its distinctly Canadian setting, but for its humour, a quality for which she has not been overpraised but which is nevertheless there, in amongst the eloquence of her phrasing and vivid characterization.
Ever since the outset of the 1970s, then, she has been a prolific writer of fiction, non-fiction, poetry, essays, and investigations into the Canadian identity; simply by outliving her idols she stands as the undisputed Queen of Canadian Literature. Approaching seventy, Atwood shows no signs of relenting, for which I am grateful (despite the groaning of my bookshelves). There are very few writers whose works I snap up the instant they're published, but she is at the top of that short list, a sensation with which the much-lauded author is well familiar I am sure.
In 2008, Atwood hit the zeitgeist jackpot by publishing
Payback: Debt and the Shadow Side of Wealth
just as the world's rich decided to make it that little bit harder for the other 95% of us...
It's a
slim volume
- derived from her
Massey Lectures
- but fairly bulges with the wit, insight, and commonsense we who revere her have come to expect.
*
share on:
facebook