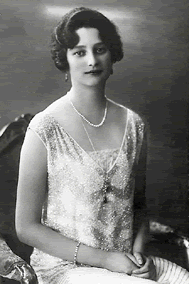 Born on this day in 1905, the granddaughter of Sweden's King
Oscar II
and Denmark's King
Frederick VIII
, it was clear that little Princess Astrid would live her life at the crossroads of European royalty; the older she got, the more likely it seemed in fact, for when she was just 13 days shy of 21 she
married
the future
Leopold III
of the Belgians.
Her three children would also grow up to be sovereigns:
Joséphine-Charlotte
became Grand Duchess of Luxembourg, and two subsequent sons became, in their turn,
Baudouin I
and
Albert II
of the Belgians. There's no telling what her fourth child would have become, though, because in August 1935, near
Küssnacht am Rigi
in Switzerland, her husband lost control of the car he was driving; it plunged into a ravine, killing the pregnant Astrid.
She was subsequently interred at the Church of Our Lady near the
Royal Castle of Laeken
, official home of the
Belgian Royal Family
, in Laeken, a suburb of Brussels. With all due respect to the present Queen,
Paola
, her mother-in-law remains, to this day, the most beloved of Belgian queens.
*
share on:
facebook