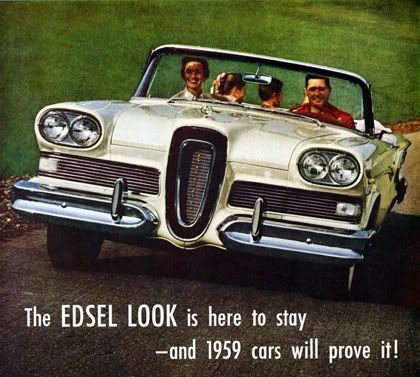 [Even for mid-century ad copy - which could blow smoke with the best of them, even when not shilling for Big Tobacco - any and all of the enthusiasm for the Ford Edsel is here entirely a product of the copywriter's fevered imagination; then again, having devoured the First Season of Mad Men

in its entirety I can almost understand what pressures drove them to lie their faces off like this.

]
1095
- The
Council of Clermont
, called by Pope
Urban II
to discuss sending the
First Crusade
to the
Holy Land
, opened.
1493
-
Christopher Columbus
became the first European to arrive at an island he named San Juan Bautista (later renamed
Puerto Rico
), which he'd sighted the day before.
1816
-
Warsaw University
was established.
1850
- Upon the refusal of the position by Samuel Russell
Alfred Lord Tennyson
replaced
William Wordsworth
as England's poet laureate, apparently; it was a position he would hold until his death in October 1892.
1863
- US President
Abraham Lincoln
delivered the
Gettysburg Address
at the dedication ceremony of a military cemetery in
Gettysburg, Pennsylvania
.
1941
- Following a
battle between HMAS Sydney and HSK Kormoran
, the two ships sank each other off the coast of
Western Australia
, with the loss of 645 Australians and about 77 German seamen.
1942
- Soviet forces under General
Georgy Zhukov
launched a series of counterattacks dubbed
Operation Uranus
during the
Battle of Stalingrad
, turning the tide of the battle in the USSR's favor.
1943
- The
Nazis
liquidated
Janowska concentration camp
in Lemberg (
Lviv
), western Ukraine, murdering at least 6,000
Jews
after a failed uprising and mass escape attempt.
1954
-
Sammy Davis, Jr.
, lost his left eye in an automobile accident in San Bernardino, California; in exchange for his recovery he converted to Judaism.
1955
-
National Review
began spewing its filth and lies, ably assisted by
William F. Buckley, Jr.
, an old filth and lies spewer from way back.
1961
-
Michael Rockefeller
, son of New York governor
Nelson Rockefeller
, disappeared in the jungles of Papua New Guinea.
1967
-
TVB
, Hong Kong's first wireless commercial television station, was established.
1969
- Soccer player
Pelé
scored his 1,000th career goal; unable to watch this singular event were
Apollo 12
astronauts
Pete Conrad
and
Alan Bean
, who on the same day
landed
at
Oceanus Procellarum
(aka the 'Ocean of Storms') making them the third and fourth humans to walk on the Moon.
1976
-
Jaime Ornelas Camacho
took office as the first President of the Regional Government of
Madeira
in Portugal.
1977
- Egyptian President
Anwar Sadat
became the first Arab leader to officially
visit Israel
, when he met President
Ephraim Katzir and
Prime Minister
Menachem Begin
before addressing the
Knesset
in Jerusalem, seeking a permanent peace settlement.
1990
- Pop group
Milli Vanilli
were stripped of their
Grammy Award
because the duo did not sing at all on their album
Girl You Know It's True
, the vocals having been supplied in their entirety by session musicians.
1994
- The first
drawing
of the UK's
National Lottery
was held; initially hosted by
Noel Edmonds
, he soon handed over hosting duties to
Anthea Turner
and
Gordon Kennedy
.
1997
-
Bobbi McCaughey
gave birth to septuplets in only the second known case where all seven babies were born alive; they would go on to become the first set of septuplets to survive infancy, with all seven still alive and living in Des Moines, Iowa, as of 2010.
*
share on:
facebook