Marianne Moore read, wrote, taught, published, and promoted poetry all her life; one enchanting line has her describing the work of a poet as creating 'imaginary gardens with real toads in them'...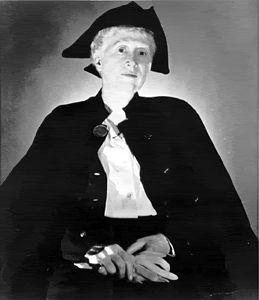 Born on this day in 1887 in the Presbyterian manse of her grandfather in St. Louis, and graduated from Bryn Mawr in 1905, she began teaching at the
Carlisle Indian Industrial School
shortly thereafter, remaining for a decade. After 1915 she began to write poetry professionally, an easier task then than now, as there were then more markets for it.
Travelling extensively throughout Europe before the outbreak of World War I she made the acquaintance of many of the era's literary lights. Her first book, entitled simply
Poems
, was published without her knowledge in 1921 by
H. D.
, who was one of those she'd met during her travels. From 1925 to 1929 Moore edited the poetry journal
The Dial
.
In 1933 Marianne Moore won the Helen Haire Levinson Prize from
Poetry
, a still-prominent journal; from that point the accolades continued to come. 1951 was the richest year of her life in this regard, as she was awarded the
Pulitzer Prize
, the
National Book Award
, and the
Bollingen Prize
for that year's
Collected Poems
.
Never married, she cut an intriguing figure perpetually outfitted in a flowing black cape and tricorn hat. Unusual for a poet, she loved athletics and athletes, going so far as to provide the liner notes for an album recorded by
Muhammad Ali
(himself a gifted poet) called
I Am the Greatest!; i
n 1968 she was invited to throw out the first pitch at a Yankees game.
It was shortly following this event that Marianne Moore suffered the first of a series of strokes; after her death in 1972 the
Rosenbach Museum & Library
in Philadelphia preserved the room in which she worked for future generations. She is buried in Gettysburg's
Evergreen Cemetery
.
*
share on:
facebook