From my perspective, there's nothing better than a dirty talking old lady - that's comedy gold, right there... Half the fun is in the shocked audience reaction, as if a person could get to the age of 70, 80, or 90 and not have already heard and said everything. Hell, I'd got there by the age of 12; if you think anything I say is shocking now, wait 'til I'm 80 motherfucker.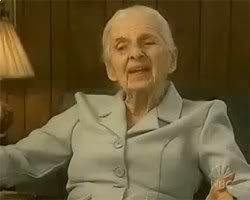 Marie Rudisill, who passed away on this day in 2006 at the age of 95, was one such lady - a fearlessly outspoken woman with impeccable comedy timing, who began appearing on
The Tonight Show
with
Jay Leno
in 2000; what I didn't know until I began researching this post, though, is that Marie Rudisill was
Truman Capote
's Aunt Tiny, about whom he frequently wrote - not much of it nice. I have to admit, that kinda blew my mind a little bit.
Rudisill wrote a book about life with her famous relative - which is how she came to be invited on
The Tonight Show
in the first place - entitled
Fruitcake: Memories of Truman Capote & Sook
; another book -
The Southern Haunting of Truman Capote
- followed. In all Rudisill published 8 books late in her life, including cookbooks and juvenile fiction. Her memoirs, however, have been frequently rubbished by others who had been there...
*
share on:
facebook