Carroll Spinney, the man behind
Sesame Street
's legendary characters
Big Bird
and
Oscar the Grouch
, occupies an enviable place in the world of puppeteering; having performed literally thousands of hours in an eight foot tall pile of foam and feathers - which is the kind of gig that would kill even an Australian drag queen - he must surely hold some kind of world record for endurance.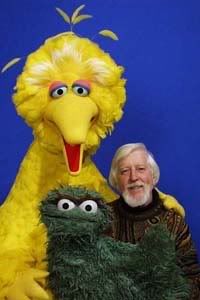 Born on this day in 1933, Spinney had a long career in puppetry and animation before coming to the
Children's Television Workshop
. Renowned as a children's educator (not to mention the co-author of
The Wisdom of Big Bird
and the author of
How To Be A Grouch
), Spinney has received four
Daytime Emmy Awards
, 2 gold records for his musical performances, a star on Hollywood's
Walk of Fame
, and the adoration of two generations of children.
Recently, after more than thirty years, Spinney has had to give up playing Big Bird, passing that duty off to
Matt Vogel
.
I must confess, though, it's Oscar the Grouch for whom I developed an early affinity; and not just on my bad days either, when the resemblance between us is eerie, but all the time. I can tell you're shocked.
Even as a kid I had the vague sense that the show I loved had a tendency toward sappiness; Oscar, on the other hand, gave the festivities a little variety. For someone who lived in a
garbage can
(albeit one which was easily as palatial as
Snoopy
's
doghouse
) and had to endure an endless string of people calling him a grouch - which would make anybody grouchy - he actually seemed pretty happy in his own way; Oscar's embrace of his own bohemianism led me to believe that when I was older I too could live and act the way I chose and, aside from constant reminders of how weird I was from those around me, also be happy in my own way.
Having early on embraced my inner grouch, this is exactly what has come to pass...
*
share on:
facebook