In a year of exceptional doucebaggery, a year in which asshattery truly flourished, it has proven difficult to choose one individual who stood head and shoulders above the others long enough to allow a clear shot at taking said head clean off.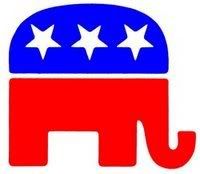 The short list includes (in no particular order) many of our favourite douchebags, both long-term and newly anointed, such as
Rudy Giuliani
,
Vladimir Putin
,
George W. Bush
,
Stephen Harper
,
Karl Rove
,
Ted "Totally Heterosexual" Haggard
,
Mitt Romney
,
Jerry Falwell
,
Mike Huckabee
,
Sam Sullivan
,
Rupert Murdoch
,
Alberto Gonzales
,
Mel Gibson
,
Larry "Wide Stance" Craig
,
Mahmoud Ahmedinejad
,
James Holsinger
,
Pervez Musharraf
, and
Dick Cheney
; each of them, in their own way, added to the general douchebagginess of 2007 in some unique and special way.
The one (some would say
lowest
) common denominator the majority of these fine upstanding citizens possess is membership in the Republican Party, making their group win not only feasible but a veritable
fait accompli
. (I love using French - or Liberty, as many of them would call it - around these loathsome toads.)
From where I'm sitting the Republican Party is the fount from whence most of the hatred and intolerance in the world gushes; keeping in mind that a douchebag is both a symbol of oppression and a useless item which causes more harm than good, I can think of no more deserving winner for this singular honour.
share on:
facebook