She can turn the world on with her smile, something that's been in evidence since well before
Sonny Curtis
wrote the words to
Love Is All Around
, which was used to introduce Mary Tyler Moore to TV audiences most Saturday nights from 1970 to 1977...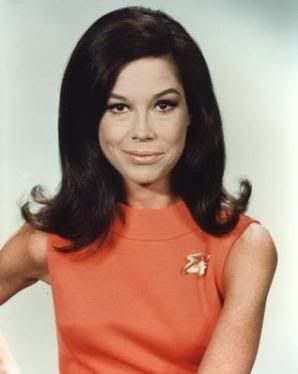 Initially a dancer, in 1961 she was cast (from a field of 60) as Laurie Petrie in the classic
sitcom
The Dick Van Dyke Show
, where her pert personality (and even perkier ass) set a new standard for TV wives; playing a young married couple, she and
Dick Van Dyke
had some serious carnality in their chemistry.
When that show went off the air in 1966, Moore made a few movies and did some theatre - including a turn as Holly Golightly in a notorious 1966 flop musical version of
Breakfast at Tiffany's
on Broadway, and the truly bizarre film
Thoroughly Modern Millie
(1967) - while waiting for the perfect
vehicle
to bring her back to television; she found it in 1970.
The Mary Tyler Moore Show
touched a nerve in American life, giving the nascent
Women's Movement
a telegenic and well-loved proponent, as well as blending the two halves of the sitcom (domestic and workplace) even more handily than had her previous gig. It also spawned a number of spin-offs, such as
Rhoda, Phyllis,
and
Lou Grant
, as well as featuring the abundant comedic talents of
Edward Asner
,
Gavin MacLeod
,
Ted Knight
,
Valerie Harper
,
Cloris Leachman
,
Betty White
, and
Georgia Engel
.
Since that show ended in 1977, Moore has made an Oscar-nominated appearance in
Ordinary People
(1980) and was memorable in
David O. Russell
's
1996 film
Flirting with Disaster
, a movie so good even
Patricia Arquette
and her dead eyes couldn't ruin it.
*
share on:
facebook