With a yelp and a growl, a shudder and a wail, Tom Waits does more than sing a song, he inhabits it... His songbook currently comprises an unparalleled achievement in American music; spanning more than thirty years chronologically, sonically as well the music of Tom Waits not only reaches back into a neverland of 1940s bluegrass, 1930s crooning, and 1920s blues, but since 1983 has also managed to offer a forceful, if dystopian, futurism. One thing a Tom Waits song never sounds like is today, which is surely why his entire catalogue seems as timeless as it does.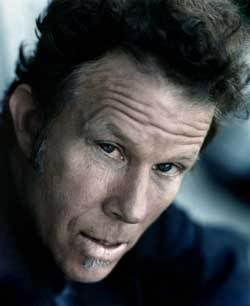 Born on this day in 1949, Tom Waits began his musical career in 1965, singing with a band at a pizzeria in San Diego, a scenario which sounds very much like an early Tom Waits song; he signed with
Asylum Records
in 1972, and then proceeded to craft and release a veritable tapestry of songs which are not only rich in character (a trait too-often lacking in contemporary music) but which tend to shed light into dark corners and onto even darker events in the American psyche with an uncompromising compassion. His first album,
Closing Time
, was released in 1973; it was followed yearly by
The Heart of Saturday Night
,
Nighthawks at the Diner
,
Small Change
,
Foreign Affairs
, and
Blue Valentine
. Two years later - in 1980 - came the final album of the period known to Waits scholars as The Asylum Years, the nearly perfect
Heartattack and Vine
.
It was while recording the
soundtrack
to
One from the Heart
, a
Francis Ford Coppola
film for which he supplied several duets with
Crystal Gayle
and for which he was Oscar-nominated, that Waits met his future wife and collaborator,
Kathleen Brennan
. He also found himself a new label -
Island Records
- and a new sound as well. In fact, what happened next to Tom Waits was described by him - and he should know - as nothing less than a
paradigm shift
.
Waits' next album,
Swordfishtrombones
, was a radical departure from his previous works, and featured an experimental sound both musically and vocally; it was also around this time that Waits began acting, including a memorable turn in
Ironweed
. Ever since, Tom Waits has straddled that line between sentimentalist and futurist; having found a new outlet for the seedy underdogs and cocky grifters who characterized his early music in acting has freed him up to take his music (including his voice) deeper and deeper into idiosyncrasy, with altogether memorable results.
*
share on:
facebook