He was said to be
Queen Victoria
's favourite Prime Minister, as much for his personality as his politics; Britain's first (and, to date, only) Jewish Prime Minister was not only a senior statesman with nearly forty years in
Parliament
, but also a prolific if quotidian novelist, famous (at least around the Pop Culture Institute) for his quote: 'When I want to read a novel I write a novel!'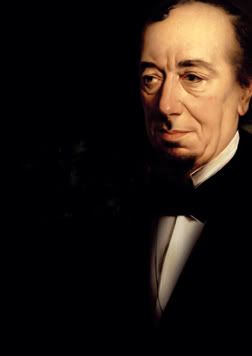 He married well, to
Mary Anne Lewis
, the wealthy widow of
Wyndham Lewis
, MP; although the difference in their ages (she was 12 years older than him) was a scandal in its time, and many presumed he'd married her only for her money, it was a happy marriage.
First
invited to form a government in February 1868 following the retirement of the
Earl of Derby
, he was defeated in that December's
general election
; his
second
ministry, though, proved more durable. Returned to power following the
election of 1874
, Disraeli was created
Earl of Beaconsfield
in 1876 (his wife having been created Viscountess Beaconsfield in her own right in 1868), and served until defeated in the
election
of April 1880 by his old rival, Liberal
William Gladstone
.
Born on this day in 1804, Benjamin Disraeli died in April 1881; he was portrayed to perfection by Sir Antony Sher in the 1997 film
Mrs. Brown
opposite
none
other
than
Dame
Judi Dench
.

*
share on:
facebook