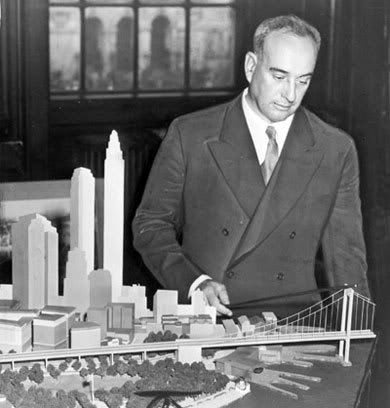 As an admirer of Manhattan I cannot help but hold Robert Moses in awe; more than any other individual, he created the city as it exists today. The infrastructure of roads, tunnels, and bridges whose construction he oversaw is a truly awesome feat, yet I cannot celebrate it (or him) unreservedly. As opposed as I am to the automobile - which it was built to accommodate - his is ultimately a legacy of that ugliest of urban blights: sprawl.
There are other troubling aspects of his legacy as well, namely blatant racism; in the 1930s, when the rest of Manhattan (and Brooklyn, Queens, Staten Island, and The Bronx) were being remade with parks, playgrounds, and public pools there was one part of the city being sorely underserved by these amenities - namely Harlem.
Born on this day in 1888, Robert Moses spent the first nine years of his life in New Haven, after which his family moved to New York City. He returned to New Haven for university, graduating from
Yale University
before continuing his studies at
Wadham College
,
Oxford
; he completed his education with a Ph.D from
Columbia University
, and timed it all perfectly so that following the election of President
Franklin D. Roosevelt
he was in line to grab massive cash infusions from the
Works Progress Administration
.
It was Moses who had the idea to put tolls on the bridges and tunnels, with which he amassed a vast capital building fund to pay for his projects; because this money didn't come from taxpayers, Moses wasn't answerable to either the state or federal governments over how it was spent. Well into the 1960s he was the single most powerful person in New York City, although fortunately not powerful enough to build his dream project, shown above, the Brooklyn Battery Bridge; he was forced instead to build a tunnel, and so was spared the wide open space of
New York Harbor
.
By the 1960s Moses was approaching 80, and the new byword of government - not his favourite - was accountability. His unpopular razing of the elegant old
Penn Station
, the costly
1964 New York World's Fair
, and
The Power Broker
, Robert Caro's 1974 biography of him (among many other controversies) finally managed to chase him from office.
Robert Moses died in July 1981; he was 92.
*
share on:
facebook