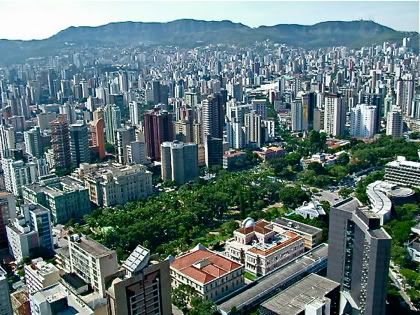 [

Belo Horizonte - known as Beagá or BH by the locals - is the third largest urban area in Brazil, after

São Paulo

and

Rio de Janeiro

; since as many as 30% of residents have some Italian heritage, the city is

renowned by tourists

for its Italianate feel. It's no coincidence I've selected a Brazilian city for special recognition today, as it's currently colder than Karl Rove's heart in Vancouver.

]
627 CE
- At the
Battle of Nineveh
a Byzantine army under Emperor
Heraclius
defeated Persian Emperor
Khosrau II
's forces, commanded by General
Rhahzadh
.
1408
- The
Order of the Dragon
was created by
future
Holy Roman Emperor
Sigismund
- then King of Hungary - and his wife Queen
Barbara of Celje
following their battle for the possession of Bosnia; among the more famous members of the order are Poland's
King
Ladislaus II
, and England's
Henry V
.
1812
- The abortive
invasion of Russia
by Napoleon Bonaparte came to a humiliating end.
1897
-
Belo Horizonte
, once a small village founded by
bandeirante
João Leite da Silva Ortiz, became Brazil's first
planned city
when ambitious plans by Aarão Reis and Francisco Bicalho to rebuild it along the lines of Washington, DC, came to fruition. Currently capital of the state of
Minas Gerais
- replacing the old colonial capital of
Ouro Preto
- this lively centre of commerce and the arts is home to some 5.5 million people.
1901
-
Guglielmo Marconi
received the first transatlantic radio signal at
Signal Hill
in
St John's, Newfoundland
.
1915
- Chinese president
Yuan Shikai
declared himself Emperor; within weeks his support crumbled, and he abandoned his claim in March 1916, dying less than three months later.
1925
- The
Majlis of Iran
declared
Reza Khan
as
Shah of Persia
.
1936
-
Chiang Kai-shek
was kidnapped by
Zhang Xueliang
during the
Xi'an Incident
.
1941
- Adolf Hitler announced his intention to exterminate Germany's Jews at a
meeting in the Reich Chancellery
attended by every prominent National Socialist in the country; a meeting - not unlike January 1942's
Wannsee Conference
(at which a similar intent was even more blatantly stated) - which neo-Nazis are fond of conveniently forgetting.
1942
- 100 people were killed during a
suspicious fire
at a Knights of Columbus hostel on Harvey Road in
St. John's, Newfoundland
.
1948
- In the midst of the
Malayan Emergency
14 members of the UK's
Scots Guards
allegedly massacred 24 unarmed civilians and set fire to their village during the
Batang Kali Massacre
.
1963
-
Kenya
gained its independence from the United Kingdom.
1964
- Prime Minister
Jomo Kenyatta
became the first
President
of the
Republic of Kenya
.
1969
- Milan's Piazza Fontana was
bombed
by right-wing terrorists hoping to blame the
panic and fear
they'd caused on Communists; this time in Italian history is known as
strategia della tensione
.
1979
- South Korean Army Major General
Chun Doo-hwan
staged a
coup d'état
when he ordered the arrest of Army Chief of Staff General Jeong Seung-hwa without authorization from President
Choi Kyu-ha
, alleging his involvement in the assassination of ex-President
Park Chung Hee
.
1984
-
Maaouiya Ould Sid'Ahmed Taya
became the third president of Mauritania after a
coup d'etat
against
Mohamed Khouna Ould Haidalla
while the latter was attending a summit outside the country; Taya was himself ousted in a coup by
Ely Ould Mohamed Vall
in March 2005.
1991
- The
Russian Federation
gained its independence from the
USSR
.
2005
-
Gebran Tueni
, Lebanese journalist and politician and son of acclaimed Druze poet
Nadia Hamadeh Tueni
, was assassinated for his anti-Syrian views.
2007
-
Francois Hajj
, the Lebanese army's chief of operations, was assassinated along with three others in a bomb attack on the outskirts of
Baabda
.
*
share on:
facebook