The justice system, in its own way, is responsible for a great portion of my cynicism; often, in their zeal to catch anyone for some crime or other, court officials toss aside rational thought and concrete evidence in favour of whatever poor schmuck they happen to have in custody. I've seen (or, more often, read about) it happening again and again, and each time it does it reduces my faith in so-called justice. On the plus side, though, it does keep me on my best behaviour...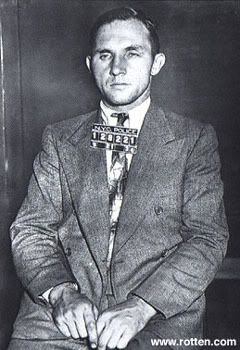 On this day in 1935 one such
trial
opened in
Flemington, New Jersey
; it involved the most sensational news story of its time, the
March 1932
kidnap
of the son of one of America's heroes - aviator
Charles Lindbergh
- and his wife, the author
Anne Morrow Lindbergh
. The baby's corpse was discovered in May of that same year; his infant's death was the impetus behind the
Lindbergh Law
, which made kidnapping a federal offense.
Collared for the crime after more than two-and-a-half years of investigation was one
Bruno Hauptmann
, a German World War I veteran and would-be carpenter; unable to find work in Germany
, Hauptmann embraced a life of crime (including break-and enter and armed robbery) which eventually saw him incarcerated at
Bautzen
. It took three attempts, but Hauptmann eventually landed in the United States in November 1923, under an assumed identity, following which he married Anna Schoeffler; together they had a son.
Hauptmann was arrested in
September 1934
, and held on $100,000 bail; Lindbergh, who attended every day of the trial in person, was represented in court by Col. Henry S. Breckinridge, who had also acted as the intermediary in the ransom negotiations. Hauptmann was represented by Edward J. Reilly (called the 'Bull of Brooklyn'), the prosecution by David Wilentz (then the Attorney-General of New Jersey) in front of Judge Thomas Trenchard.
The usual string of witnesses were brought forth, including the Lindberghs themselves, various of their servants, state troopers (including
Norman Schwarzkopf
, father of the American general), and several eye-witnesses. The most damning of the evidence was largely circumstantial, and some of it was later revealed to have been planted.
Following 11 hours and 24 minutes of deliberation in February 1935, a jury found Hauptmann
guilty
despite major gaps in the evidence, including no credible witnesses able to put him near the Lindbergh's estate at Hopewell at any time. He was executed by an electric chair called
Old Smokey
at the
New Jersey State Prison
in Trenton in
April 1936
, still proclaiming his innocence; a more likely candidate for guilt, the shadowy figure of
Isidor Fisch
, had already returned to Germany, where he died in March 1934.
*
share on:
facebook