A woman considered among the brightest lights of the
Harlem Renaissance
had almost been entirely extinguished by the time of her death in 1960; in fact, the life and great works of
Zora Neale Hurston
might never have been revived at all had it not been for an even greater renaissance throughout the 1960s and 1970s - the twin awakenings of Women's and Black Studies which have since added much-needed melanin and estrogen to the all-too pale, male-dominated world of letters.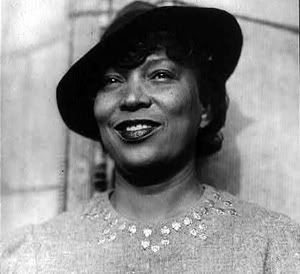 It is apt that a woman whose work involved folklore engulfed her own life in so many myths of her own; today, we can only be reasonably certain that Hurston was born on this day in 1891, in
Notasulga, Alabama
, and as a child moved to the first all-black town in the United States, at
Eatonville, Florida
. Orphaned by the age of 13, Hurston graduated from
Morgan Academy
in 1918, which may have been about the time she started playing fast and loose with her own chronology...
Though acclaimed early on as a novelist, Hurston was trained as an anthropologist, receiving her degree from
Barnard College
and later working with
Ruth Benedict
and
Margaret Mead
; as moving as her 1937
novel
Their Eyes Were Watching God
is, her
study
of voodoo from the same year,
Tell My Horse
, is just as revealing, although unlike its fictional counterpart, it isn't likely to be made into a
Halle Berry
movie
by
Oprah Winfrey
with a screenplay by
Suzan-Lori Parks
.
Is all I'm sayin'...*
It is to
Alice Walker
that credit for the Hurston Renaissance must go, as much as to the timeless vividity of Hurston's own writing; Walker's 1975 article for
Ms. Magazine
entitled
In Search of Zora Neale Hurston
had epic repercussions. Hurston had been buried in an unmarked grave; now her
home
in
Fort Pierce, Florida
, is a
National Historic Landmark
.
*Both of these books, plus the 1934 novel Jonah's Gourd Vine are to be found in the collection of the

Pop Culture Institute

.
*
share on:
facebook