Heath Ledger, the Australian-born actor popular for such films as
10 Things I Hate About You, Monster's Ball
,
A Knight's Tale
, and of course
Brokeback Mountain,
was found dead in a Manhattan apartment today by a housekeeper and a masseuse at just after 3:30 PM local time. He was 28.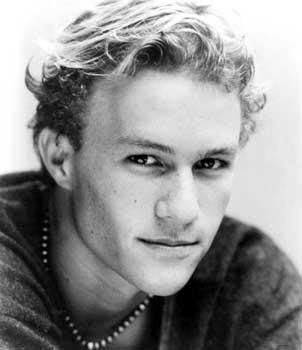 Romantically linked with
Naomi Watts
and
Heather Graham
, in 2005 Ledger became engaged to his
Brokeback
costar
Michelle Williams
; in October of that year the couple had a daughter, Matilda Rose. Ledger and Williams confirmed their split in August 2007, citing conflicting work schedules.
At the time of his death Ledger had just completed work as
The Joker
in
The Dark Knight
, to be released this July; his performance was (and, indeed, still is) eagerly anticipated. In fact, he was at work on
The Imaginarium of Dr. Parnassus
when he died; no word yet on what's to become of that production.
While rumour and speculation are rampant, Ledger's haggard appearance of late has most pundits predicting that drugs played a major factor in his untimely death. Ledger's demise comes just one week after the death of another young actor,
Brad Renfro
, 25, also due to drugs-related causes.
The Plot Thickens...
The
New York Times
is
reporting
that Ledger was found not at home but in the apartment of Mary-Kate Olsen, near a copious quantity of sleeping medication. An autopsy is scheduled for tomorrow; a spokeperson for Ms. Olsen insists the apartment (located at 421 Broome St. in the tony SoHo neighbourhood) belongs to neither her nor her sister.
share on:
facebook