No matter how far the amply gifted graphic novelist Ken Boesem goes in this world - and believe me, the potential is enormous - I'll always be able to say I knew him when...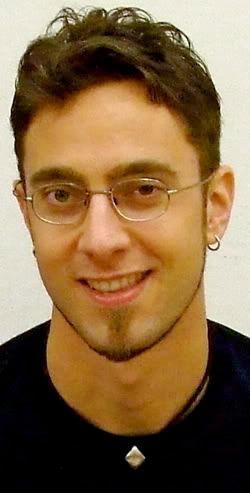 Born in Quesnel on this day in 1971, Ken showed his precocity early, as will happen. Since I am not a naturally pushy person, and he's fairly private, I've never had the chance to interview him at length about his childhood; over the years there have been hints, however, that his memories are not entirely positive. Then again, whose are?
We first met in Kelowna, something like a decade and a half ago now. Contrary to the highly structured rules of gay life in Kelowna he was nice to me from the start; nevertheless, it doesn't seem to have affected his status amongst his A-List friends there, most of whom wouldn't have needed me to have a jellyfish sting as an excuse to piss on me.
He moved to Vancouver at about the same time as I did; again, despite the dictates of
Davie Street
culture (and what must be the unspoken rules of the male employees of
Little Sister's
) he continues to talk to me to this day, though once I publish this he may have had enough. For my part, I prefer to contact him through Facebook, which is so much easier than trying to talk to him while looking through a pinhole in a piece of cardboard, as one would with a solar eclipse.
All of Ken's work - including the haunting
1918
and digest versions of his comic strip
The Village
- are available at his website,
Barking Raven Press
.
I highly recommend them - and him - to one and all.
*
share on:
facebook