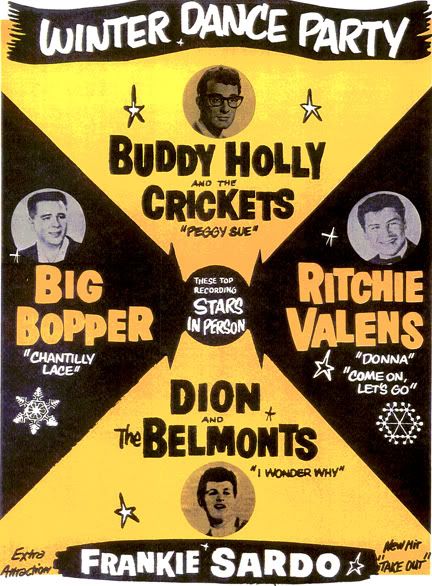 Whomever it was planned the itinerary of
The Winter Dance Party
should have had their head examined; the tour of early rock and roll notables was to cover 24 cities in 21 days, but leapfrogged all over the map, making travel between locations a logistical nightmare. The solution was obvious to
Buddy Holly
, who arranged for a
Beechcraft Bonanza
to fly between gigs, rather than spending hours a day in a bus traveling back and forth across the freezing Midwest. Holly was a driven, ambitious sort who didn't have time to waste.
After playing an extra gig at the
Surf Ballroom
in
Clear Lake, Iowa
, Holly was anxious to do some laundry, and since the laundromat in Clear Lake was closed he was in a hurry to get to the next one, in
Moorhead, Minnesota
so he could at least have clean socks to wear. Having chartered the plane and acquired the services of a pilot,
Roger Peterson
, Holly arranged for
Waylon Jennings
to accompany him.
J.P. 'The Big Bopper' Richardson
had gotten a cold while on tour, and so asked Jennings if he could take his seat on the plane, to which request Jennings acquiesced; it would prove to be one of his smarter career choices. When
Ritchie Valens
heard that Holly and his bandmate
Tommy Allsup
were going up in a small plane, on a lark Valens decided he wanted to go; there was a coin toss as they were set to leave the Surf Ballroom for the airport, which Valens 'won'. A final seat was promised to
Dion DiMucci
of
Dion & The Belmonts
, who balked at paying the steep $36 charter fee, and stayed behind.
Shortly after 1 AM on this day in 1959 the plane took off from the
Mason City Municipal Airport
bound for Fargo, North Dakota, (just across the Red River from Moorhead, and the nearest airport). The pilot hadn't filed a flight plan, intending to do it while in the air. Two hours later, when they had yet to arrive, they and their aircraft were reported missing. The following morning a local pilot by the name of Jerry Dwyer (owner of the missing plane) set off in search of them, but he didn't have to go far.
He found the wreckage eight miles northwest of the airport in a cornfield belonging to Albert Juhl, debris and passengers scattered over 570 feet, the pilot - also dead - trapped inside. Ironically, the night before, Dwyer had seen the lights of the plane descending nearby, but unaware that it was his plane thought nothing of it.
No one will ever know why Peterson, who had recently failed his instrumentation test and wasn't rated to fly at night, agreed to pilot the flight; maybe it was youthful braggadocio, perhaps he was simply starstruck, or he may have been looking for a story to tell his grandkids. What we do know well enough is that four young men died that night, due to 'pilot error'.
*
share on:
facebook