Patsy Cline
nearly died in June 1961 when the car her brother Sam was driving was struck head-on by another in front of suburban Nashville's Madison High School; Cline was thrown against the windshield, badly scarring her forehead, dislocating her hip and breaking her wrist, which injuries forced her to spend a month in hospital recuperating. Still, she considered herself lucky, as she'd watched the woman driving the car that hit them die.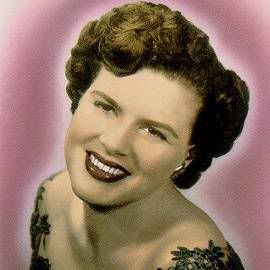 Very few people get a second chance at life; not only did Patsy Cline get one, but she used it well. In the aftermath of that accident (actually the second, albeit the more serious, of two she would suffer) she found great solace in her faith. Cline's indomitable spirit simply would not be kept down; so strong was her desire to entertain that when she returned to performing (just six weeks later, in
July 1961
, in Tulsa) she did so on crutches, against her doctor's wishes. 36 years later to the day, long-lost recordings of that performance were released as
Live at the Cimarron Ballroom
, in which she can be heard jovially discussing her brush with Fate.
The accident altered more than her outlook on life; in the recording studio with famed producer
Owen Bradley
to create one of her most enduring hits -
Crazy
(written by
Willie Nelson
) - she was still in a great deal of pain from broken ribs, and frustrated by her inability to sing it like the demo. After four hours of arguments she left the studio; two weeks later when she'd returned she'd decided to slow the song down and deepen her register, following which an altogether different but equally beautiful new voice emerged. Unlike others of the genre, the pain in the song isn't merely emotive, and fans both old and new responded to the song's honesty with fervour; it became one of the earliest country songs to cross over to the pop chart, and today is considered her signature tune. It was also recorded in a single take.
In the final eighteen months of her life Patsy Cline seemed driven to succeed even more than she had been before; she confessed to friends
Dottie West
and
June Carter Cash
that she was plagued by a sense of impending doom, and so redoubled her efforts to ensure her legacy against that eventuality. She was never morbid about it, though, and in fact grew ever more generous as a result, giving away personal items to friends and family in the process.
On this day in 1963 Cline's sense of foreboding came to pass; at her last performance, a benefit in Kansas City for Cactus Jack McCall (a local disc jockey who had died in a car crash), she put on a show which even those accustomed to her virtuosity agreed had surpassed her best. Afterwards, despite offers of a ride home with Dottie West, Cline was anxious to return to Nashville to see her children, and so she decided to fly. Readers of the
Pop Culture Institute
ought to know well enough by now what happens all too often when talented musicians get into small planes.
Boarding a
Piper Comanche
headed East along with her manager Randy Hughes (who was also the pilot) and fellow
Grand Ole Opry
stars
Cowboy Copas
and
Hawkshaw Hawkins
, at first all seemed to be going well; the plane landed for refueling at Dyersburg, Tennessee, where it was suggested that the group stay overnight, due to heavy weather ahead. Hughes insisted they push on, since they were already so close to their destination. The plane left Dyersburg at 6:07 PM, and crashed 13 minutes later outside
Camden
, just 90 miles from home, killing all onboard. Cline was 30.
Buried in her hometown of
Winchester, Virginia
, beneath the simple phrase
Death Cannot Kill What Never Dies: Love
- as well as commemorated in a memorial near the crash site - Cline was most famously played by
Jessica Lange
in the
film
Sweet Dreams
(1985). It's considered a shabby tribute at best, depicting Cline as the victim of domestic abuse (which she wasn't). What's worse is that Lange looks nothing like Cline; nevertheless, she was nominated for an Academy Award for her portrayal. Slightly better is
Beverly D'Angelo
's earlier version of her in the
Loretta Lynn
biopic
Coal Miner's Daughter
(1980); best to read Ellis Nassour's 1994 biography
Honky Tonk Angel: The Intimate Story of Patsy Cline,
which contains the recollections of many who knew Cline personally.
*
share on:
facebook