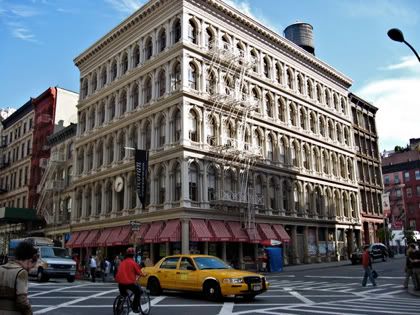 [

The E.V. Haughwout Building - located at 488 Broadway and the corner of Broome Street in Manhattan's tony

SoHo

district - was designed by John P. Gaynor to house Haughwout's emporium of fine china, which once attracted such bold-named clients as

Mary Todd Lincoln

. The building's original Otis Elevator - the first in the world - cost $300 and went the amazing speed of 20 cm (8 inches) per second; it is no longer in place.

]
1568
- The
Peace of Longjumeau
ended France's so-called Second War of Religion when again King
Charles IX
and
Catherine de' Medici
(his mother and widow of
Henri II
) made substantial concessions to the
Huguenots
.
1708
-
James Francis Edward Stuart
- son of the deposed
James II and VII
of England and Scotland, known colloquially as the Old Pretender - attempted to invade England by landing a French fleet at the
Firth of Forth
; the ships were ultimately driven back by
Admiral Sir George Byng
.
1775
- American patriot
Patrick Henry
delivered his famous speech - proclaiming '
give me liberty or give me death
' - to the
Virginia House of Burgesses
at
St. John's Church
in Richmond, supposedly in the presence of fellow revolutionaries
Thomas Jefferson
and
George Washington
. Or did he? And was he the first to utter those famous words?
1801
- Russia's Tsar
Paul I
was struck with a sword, then
strangled
, and finally trampled to death in his bedroom at
St. Michael's Castle
in what was surely one of the most labour-intensive assassinations in history... In the end the Tsar was killed by a group of men led by
Levin August, Count von Benningsen
and General
Vladimir Yashvil
.
1806
- After traveling overland through the vast territory encompassed by the
Louisiana Purchase
and reaching the Pacific Ocean, explorers
Lewis and Clark
and their
Corps of Discovery
set out from
Fort Clatsop
in the
Oregon Country
to begin their equally arduous journey back to St. Louis.
1848
- The ship
John Wickliffe
arrived at
Port Chalmers
carrying the first Scottish settlers for a proposed colony at
Dunedin
, resulting in the founding of New Zealand's
Otago
province.
1857
-
Elisha Otis
's first
elevator
was installed at
488 Broadway
in New York City.
1889
- The free
Woolwich Ferry
officially opened connecting
Woolwich
in the
Borough of Greenwich
to
North Woolwich
in the
Borough of Newham
in the east end of London across the Thames.
1896
- The
Raines Law
was passed by the
New York State Legislature
, restricting the Sunday sale of alcohol to hotels, rather than saloons - which anyway soon found a loophole by fitting out 'rooms' in storehouses which later proved highly propitious to prostitutes and their clients. The Raines Law's principal depiction in pop culture remains
Eugene O'Neill
's
play
The Iceman Cometh
, in which the saloon room has been outfitted for use as a gambling parlour.
1908
- American diplomat
Durham Stevens
was attacked while staying at San Francisco's
Fairmont Hotel
by Korean assassins
Jeon Myeong-un
and
Jang In-hwan
, leading to his death in a hospital two days later.
1919
-
Benito Mussolini
founded his
Fascist
political movement, the
Fasci Italiani di Combattimento
(Italian Combat Squad), in Milan; within two years the organization became known as the
National Fascist Party
.
1931
- Revolutionaries
Bhagat Singh
,
Rajguru
and
Sukhdev
were hanged during the Indian struggle for
independence
, their request to be executed by firing squad having been refused.
1933
- Germany's
Reichstag
passed the
Enabling Act of 1933
, effectively making
Adolf Hitler
that country's dictator.
1983
- US President
Ronald Reagan
made
his initial proposal to develop the
Strategic Defense Initiative
, a technology designed to intercept enemy missiles from space.
1994
- At an election rally in
Lomas Taurinas
, a poor neighbourhood in Tijuana, Mexican presidential candidate
Luis Donaldo Colosio
of the centre-right
PRI
party was assassinated by
Mario Aburto Martínez
.
1996
- Taiwan held its
first direct elections
, choosing
Lee Teng-hui
as President despite offshore missile tests conducted by China, which were intended as a scare tactic in support of such candidates as
Lin Yang-kang
, who supported the
One-China Policy
.
1999
- Gunmen assassinated Paraguay's
Vice President
Luis María Argaña
; no saint himself - he was a high-ranking judge during the regime of
Alfredo Stroessner
- Argaña's death was thought to have been masterminded by his political rival
Lino Oviedo
, although no proof one way or the other has ever been found.
2001
- Russia's
Mir
space station became a 'mere' memory when it was removed from orbit, breaking up in the atmosphere before falling into the southern Pacific Ocean near Fiji.
2007
- A pile-up involving three trucks and four cars in Melbourne's
Burnley Tunnel
resulted in an explosion and fire which rescue crews estimated burned as hot as 1000 °C (1800 °F); three people died, including
Commonwealth Games
gold medal
cyclist
Damian McDonald
.
*
share on:
facebook