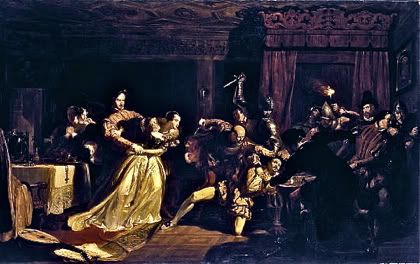 [The Murder of David Rizzio, painted by William Allen in 1833, had previously been painted by John Opie in 1787.]
1202
- Norway's King
Sverre
died; he was succeeded by his illegitimate son
Håkon
, as chronicled in the
Sverris saga
and the
Bagler sagas
.
1230
- Bulgarian Tsar
Ivan Asen II
defeated
Theodore of Epirus
at the
Battle of Klokotnitsa
.
1566
-
David Rizzio
- the private secretary to
Mary, Queen of Scots
- was murdered in her presence in Edinburgh's
Palace of Holyroodhouse
; stabbed more than fifty times before being thrown down a flight of stairs, his body was then taken and hastily buried. The Queen's jealous husband
Lord Darnley
was said to be responsible, although the plot may have been funded by her rival
Elizabeth I
of England in an effort to weaken Mary both politically and emotionally; Darnley's equally ghastly murder in
February 1567
is thought to have been in retribution.
1765
- After a public campaign by the writer
Voltaire
, judges in Paris posthumously exonerated Protestant merchant
Jean Calas
of murdering his own son
Marc-Antoine
three years to the day after Calas had been sentenced to die. The elder Calas had been tortured and executed in March 1762 on the charge, even though the younger Calas had actually committed suicide; the harsh and ultimately spurious judgement against him had been motivated by religious bigotry in what was still a very Catholic country.
1776
-
Adam Smith
's landmark book on economics,
The Wealth of Nations
, was published.
1796
-
Napoléon Bonaparte
married his first wife,
Joséphine de Beauharnais
.
1841
- The US Supreme Court delivered its decision in the
Amistad
case, concerning captive Africans who had seized control of the slave-trading ship carrying them in July 1839: the court ruled that they had been taken into slavery illegally, events recounted cinematically in
Steven Spielberg
's
1997 film
Amistad
.
1842
-
Giuseppe Verdi
's third opera
Nabucco
premiered at the
Teatro alla Scala
in Milan; concerning the anti-Semitism of
Nebuchadnezzar
, its success established Verdi as one of Italy's foremost opera writers.
1862
- During the American Civil War the
USS Monitor
and
CSS Virginia
fought to a draw at the
Battle of Hampton Roads
, the first fight between two
ironclad warships
.
1908
- The Italian football club
Inter Milan
was founded.
1910
- The
Westmoreland County Coal Strike
, involving 15,000 coal miners represented by the
United Mine Workers
trade union, began in Pennsylvania; the strike would last until July 1911.
1916
- Outraged at the US government's support for the regime of President
Venustiano Carranza
, revolutionary
Pancho Villa
led 1,500 Mexican raiders in an attack against
Columbus, New Mexico
, killing 17.
1933
- Congress began its first 100 days of enacting
New Deal
legislation - with the aim of alleviating an ever-worsening
Great Depression
- when President
Franklin D. Roosevelt
submitted the
Emergency Banking Act
.
1954
- CBS television broadcast an episode of its news program
See It Now
, entitled
A Report on Senator Joseph McCarthy
; produced by
Fred W. Friendly
and legendary newsman
Edward R. Murrow
, the program's attack on
McCarthyism
has since been called 'Television's Finest Hour'.
1957
- The magnitude 8.6
Andreanof Islands Earthquake
and its resultant tsunami (which caused damage as far away as Hawai'i) struck Alaska's
Aleutian Islands
.
1977
- During the
Hanafi Muslim Siege
approximately a dozen armed Hanafi Muslims seized 3 buildings in Washington, DC (city hall, B'nai B'rith headquarters, and the Islamic Center) killing reporter Maurice Williams and security guard Mack Cantrell and taking 149 hostages; the situation ended 2 days later with only the two fatalities, due in part to the intervention of three Muslim ambassadors - Egypt's Ashraf Ghorbal, Pakistan's Sahabzada Yaqub-Khan and Iran's
Ardeshir Zahedi
.
1990
- Dr.
Antonia Novello
was sworn in as
Surgeon General of the United States
, becoming both the first female and Hispanic American to serve in that position.
1997
- Rapper
The Notorious B.I.G.
- aka Christopher Wallace - was murdered, following an after-party for that year's
Soul Train Music Awards
at the
Petersen Automotive Museum
in Los Angeles; a
2009 biopic
entitled
Notorious
starring
Jamal 'Gravy' Woolard
dramatized his life and death.
2006
- Liquid water was discovered on
Enceladus
, the sixth largest moon of
Saturn
.
*
share on:
facebook