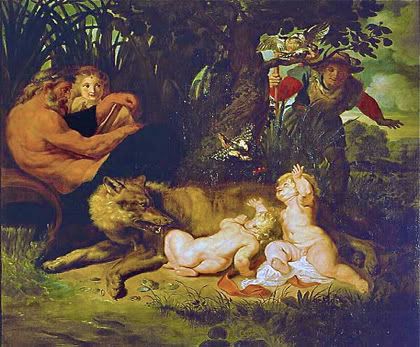 [Peter Paul Rubens

really outdid himself with this fanciful rendering of carbohydrate-enhanced tots Romulus and Remus, who were said to be the sons of the vestal virgin

Rhea Silvia

and the god of war,

Mars

; rather than have them killed, the legend goes, their mother abandoned them on the banks of the

River Tiber

, whereupon the river deity

Tiberinus

delivered them safely to a she-wolf who suckled them and raised them as her own. Considering what must have been a fairly ghastly time in foster care, together they founded a great city which Romulus reigned over as its first King. Aside from the fact that he had to kill Remus to do it, of course, it would have been idyllic, although following his own death he was deified as

Quirinus

- the divine persona of the Roman people - so I guess in the end they forgave him

... Unless it's all a great big metaphor like the rest of religion and the twins were actually fathered by an Army officer and raised by a prostitute (who were known as 'she-wolves'); either way, it goes a long way towards proving that the surreal films Federico Fellini made about Rome were actually, as he has insisted, 'documentaries'.

]
753 BCE
-
Romulus and Remus
are traditionally considered to have founded
Rome
.
43 BCE
- At the
Battle of Mutina
- waged to avenge the murder of
Julius Caesar
-
Mark Antony
was again defeated in battle by
Aulus Hirtius
(having lost the
Battle of Forum Gallorum
to him the previous week), although Hirtius was himself killed; while Antony failed to capture
Mutina
,
Decimus Brutus
(one of Caesar's assassins) was murdered shortly afterwards while escaping to Gaul.
1073
- Pope
Alexander II
died; he was succeeded by
Gregory VII
the following day.
1109
- Having been sent into exile by both
William II
and
Henry I
in the years since his enthronement in December 1093
Anselm of Canterbury
,
Archbishop of Canterbury
, died; he was succeeded by
Ralph d'Escures
.
1142
-
Pierre Abélard
- of
Héloïse
and Abelard fame - died at the priory of St. Marcel, near
Chalon-sur-Saône
; initially buried there, his remains were later given secretly to
Héloïse
, who was herself buried beside them after her death in May 1164. Their tomb can be found in the Cimetière du
Père Lachaise
in Paris, although there is some debate as to where they are actually buried.
1509
-
Henry VIII
ascended the throne of England upon the death of his father,
Henry VII
.
1792
-
Tiradentes
- a revolutionary and leader of the movement for
Brazilian Independence
- was hanged and quartered in Rio de Janeiro at a square which now bears his name, the
Praça Tiradentes
. The day is now celebrated as a holiday in Brazil.
1809
- Two Austrian army corps were driven from
Landshut
by a
First French Empire
army led by Napoleon as two French corps to the north held off the main Austrian army on the first day of the
Battle of Eckmühl
.
1836
- At the
Battle of San Jacinto
, during the
Texas Revolution
, forces of the
Republic of Texas
under
Sam Houston
defeated the army of Mexican
General
Antonio López de Santa Anna
.
1868
-
Henry James O'Farrell
- the Irish-born Australian who'd attempted to assassinate
Prince Alfred, Duke of Edinburgh
on
March 12th
- was executed for his efforts, despite the best efforts of his lawyer
Butler Cole Aspinall
and the intercession of the Prince himself.
1918
- World War I flying ace
Manfred von Richthofen
- better known as
The Red Baron
- was shot down and killed over
Morlancourt
Ridge, near the
Somme River
; for many years Canadian Captain
Arthur 'Roy' Brown
was considered the source of Richtofen's fatal shot, but a new theory indicates it may have been Australian Sergeant
Cedric Popkin
who actually downed the destructive Hun.
1922
- The first
Aggie Muster
was held by
Texas A&M University
as a remembrance for fellow alumnus (known colloquially as Aggies) who had died in the previous year; the date chosen is also
San Jacinto Day
, the commemoration of the Battle of San Jacinto during which Texas won its independence from Mexico in 1836.
1926
- A daughter was born to Britain's
Duke
and
Duchess of York
in their home at 17 Bruton Street in London... None that day could have known that this infant would one day not just be queen but
one of Britain's greatest sovereigns ever
.
1960
-
Brasília
, Brazil's capital, was officially inaugurated when, at 9:30 am, the Three Powers of the Republic were simultaneously transferred from the old capital,
Rio de Janeiro
.
1962
- The
Seattle World's Fair
(Century 21 Exposition) opened, making it the first
World's Fair
in the United States since World War II.
1966
- The visit by Emperor
Haile Selassie
of Ethiopia
to Jamaica is an event now celebrated as
Grounation Day
by the
Rastafari movement
.
1967
- A few days before the general election in Greece, Colonel
George Papadopoulos
led a coup d'état against the government of
Georgios Athanasiadis-Novas
, establishing a
military regime
that lasted for seven years. The catalyst for the coup was the earlier dismissal of former Prime Minister
Georgios Papandreou
by King
Constantine II
, an affair known as the
Apostasia of 1965.
1970
- The
Hutt River Province Principality
, near
Geraldton
, seceded from Australia.
1971
- Haiti's dictator
François 'Papa Doc' Duvalier
- who ruled that country from 1957 until his death - died; he was succeeded by his son,
Jean-Claude 'Baby Doc' Duvalier
, who managed to govern until being chased into exile in February 1986.
*
share on:
facebook