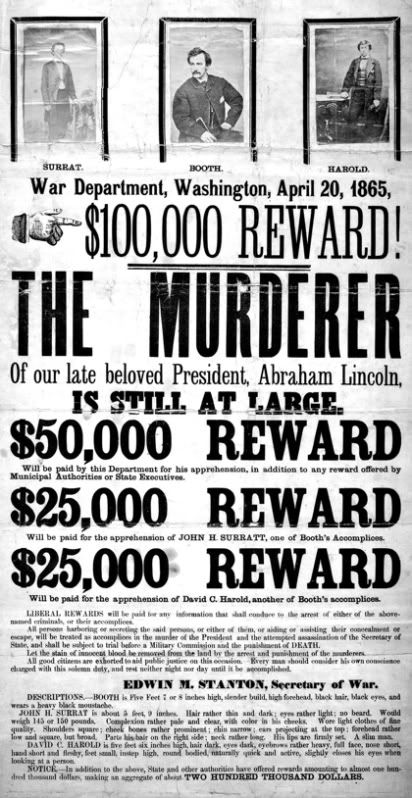 [

While rewards were paid for the capture of his accomplices

George Atzerodt

and

Lewis Powell

, no one ever claimed the money set aside to bring Abraham Lincoln's assassin to justice; for this reason, numerous fanciful stories have circulated that

John Wilkes Booth didn't actually die on this day in 1865 as history records

. While the

official report

on the matter is a pretty dry read, for something wetter - downright juicy even! - try

Manhunt: The 12-Day Chase for Lincoln's Killer

, by James Swanson, one of the Pop Culture Institute's most highly recommended books.

]
1336
- Italian sonneteer
Petrarch
made an ascent of
Mt. Ventoux
accompanied by his brother; he later claimed to have been the first person to climb the mountain since antiquity, which he was not. Ironically, that honour rightly belongs to the French priest
Jean Buridan
, whose scientific studies into
impetus
and
inertia
were some of the most important made in the Middle Ages, and whose own impetus to climb the mountain easily overrode whatever inertia he might have felt toward the task.
1478
- As part of the
Pazzi Conspiracy
Francesco de' Pazzi and Bernardo Bandini attacked
Lorenzo de' Medici
and killed his brother
Giuliano
during High Mass in the
Duomo of Florence
.
1607
- English colonists bound for Virginia's
Jamestown Settlement
made landfall at
Cape Henry
.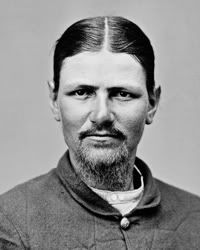 1865
- Twelve days after US President
Abraham Lincoln
was shot (and 11 days after he died) Union cavalry troopers led by Lieutenant
Edward P. Doherty
cornered his assassin,
John Wilkes Booth
, in a tobacco barn at Garrett's Farm near Bowling Green, Virginia. With him was an accomplice,
David Herold
, who surrendered almost immediately. Despite setting fire to the barn in order to flush him out, the wounded Booth (he broke his leg fleeing from
Ford's Theatre
the night he shot Lincoln) would not be budged. Booth was eventually shot in the neck by
Boston Corbett
(shown, at right) in almost the same place Booth had shot Lincoln - behind the left ear; paralyzed, Booth was taken to the Garrett farmhouse, where he died three hours later on their porch, mumbling the words 'Useless, useless...'.
1925
-
Paul von Hindenburg
defeated
Wilhelm Marx
in the second round of the
German presidential election
to become the first directly elected head of state of the
Weimar Republic
.
1933
- The
Geheime Staatspolizei
- better known as the
Gestapo
, the official secret police force of
Nazi Germany
- was established.
1937
- The Spanish town of
Guernica
was
bombed
by the
Luftwaffe
's
Condor Legion
and Italy's
Aviazione Legionaria
; code named Operation Rügen, it was one of the gravest atrocities committed during the
Spanish Civil War
.
1946
-
Father Divine
, a controversial religious leader who claimed to be God, married the much-younger
Edna Rose Ritchings
; theirs remains a celebrated anniversary in the
International Peace Mission movement
.
1962
- A computer error caused
NASA
's
Ranger 4
spacecraft to
crash into
the
dark side of the moon
, rendering the device unable to perform any of its necessary tasks.
1964
-
Tanganyika
and
Zanzibar
merged to form
Tanzania
.
1966
- An earthquake of magnitude 7.5 destroyed
Tashkent
.
1970
- The
Convention Establishing the World Intellectual Property Organization
entered into force.
1982
- A shooting spree in which 57 people were killed by former South Korean police officer
Woo Bum-kon
began in
Gyeongsangnam-do
.
1986
- A nuclear reactor accident at the
Chernobyl Nuclear Power Plant
in Ukraine caused the worst
nuclear disaster
in history.
1991
-
Seventy tornadoes
broke out in the central United States; before the outbreak's end
Andover, Kansas
, would record the year's only
F5
tornado.
1994
- An Airbus A300-600R carrying
China Airlines Flight 140
crashed at Japan's
Nagoya Airport
killing everyone on board, with a death toll amounting to 264.
2002
-
Robert Steinhäuser
infiltrated
Gutenberg-Gymnasium
in the German town of
Erfurt
, managing to kill 17 at the school before dying of a self-inflicted gunshot.
2005
- Under international pressure, Syria
withdrew
the last of its 14,000 troop military garrison in Lebanon, ending its 29-year military domination of that country.
2007
- Hong Kong's
Queen's Pier
was officially closed by the
government
, after a bitter struggle by conservationists, in order to facilitate
land reclamation
in the city's central business district.
*
share on:
facebook