[

Under the motto

Preserving History, Honoring Excellence, Connecting Generations

the Baseball Hall of Fame in Cooperstown, New York, is charged with both preserving the relics and honouring the legacies of those men who have most excelled at playing the American pastime. But have they been too over-zealous in this latter pursuit? Author Zev Chafets thinks so; his book, Cooperstown Confidential: Heroes, Rogues, and the Inside Story of the Baseball Hall of Fame

seeks to blow the white-wash off of some of the worst d-bags, bastards, and blackguards ever to shag a fly, swing the ash, or hurl the pearl.

]
1381
- During England's so-called
Peasants' Revolt
rebels from Essex - led by
John Ball
,
Wat Tyler
and
Jack Straw
- arrived at
Blackheath
, which was then on the outskirts of London.
1429
-
Joan of Arc
led the French army in their capture of the city and the English commander,
William de la Pole, 1st Duke of Suffolk
, in the second day of the
Battle of Jargeau
.
1653
- During the
First Anglo-Dutch War
the
Battle of the Gabbard
began; it would last into the next day.
1776
- The
Virginia Declaration of Rights
was adopted.
1860
- The
State Bank of the Russian Empire
was established.
1864
- During the
Overland Campaign
portion of the US Civil War, at the
Battle of Cold Harbor
, General
Ulysses S. Grant
gave Confederate forces under
Robert E. Lee
a victory when he pulled his Union troops from their positions at Cold Harbor, Virginia, and moved south.
1889
- 78 people were killed and 260 injured in the
Armagh rail disaster
- a crash involving a Sunday School excursion train near
Armagh
in what is now
Northern Ireland
.
1898
- General
Emilio Aguinaldo
declared the Philippines' independence from Spain, appropriately enough with the
Philippine Declaration of Independence
.
1899
- The
New Richmond Tornado
- the eighth deadliest tornado in US history - killed 117 people and injured around 200 in that Wisconsin town.
1939
- The
Baseball Hall of Fame
was dedicated in
Cooperstown, New York
.
1940
- 13,000 British and French troops surrendered to Nazi Germany's Major General
Erwin Rommel
at
Saint-Valery-en-Caux
.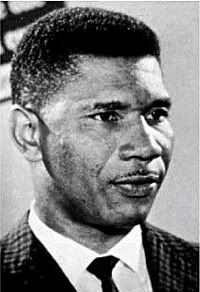 1963
- Civil rights leader
Medgar Evers
(
shown, at left
) was murdered in front of his Jackson, Mississippi, home by
Ku Klux Klan
member
Byron De La Beckwith
- a story told cinematically* by
Rob Reiner
in the
1996 film
Ghosts of Mississippi
, which contains a chilling Oscar-nominated performance by
James Woods
as de la Beckwith... In the film
Whoopi Goldberg
as Evers' widow
Myrlie
and
Alec Baldwin
as her lawyer
Bobby DeLaughter
fight for justice at de la Beckwith's third trial - the first two (in 1964) having ended in mistrials resulting in acquittal. As per usual, any attempt to stop or even slow down the
Civil Rights Movement
with the murder of Medgar Evers was met with a redoubled effort by those more determined than ever to continue his work by preserving his legacy. In 1970
Medgar Evers College
opened in Brooklyn, a fitting tribute to the man who once helped the first black student,
James Meredith
, attend the
University of Mississippi
, which had a strict whites-only policy.
*An earlier film -
For Us the Living: The Medgar Evers Story
starring
Howard Rollins Jr.
and
Irene Cara
- was made for American television and aired in 1983;
Phil Ochs

also tells Evers' story in the song

Too Many Martyrs.
1964
- Anti-
apartheid
activist and
African National Congress
leader
Nelson Mandela
was
sentenced
to
life in prison
by a court in South Africa for engaging in acts of sabotage.
1967
- The US Supreme Court unanimously decided in the case of
Loving v. Virginia
, declaring all state laws which prohibited inter-ethnic marriage to be unconstitutional, making today a big one for all fans of miscegenation.
1975
- India's Prime Minister
Indira Gandhi
was
found guilty of corruption
by the
High Court of Allahabad
based largely on complaints made by
Raj Narain
. Her punishment was being barred from holding elective office for six years; her response was to compel Indian President
Fakhruddin Ali Ahmed
to declare a
state of emergency
which held for 21 months, during which time she rounded up and jailed her critics and clamped down on press freedoms - events most chillingly described in
Salman Rushdie
's
Booker Prize
-winning
1981 novel
Midnight's Children
.
1978
-
David Berkowitz
- New York City's notorious 'Son of Sam' killer - was sentenced to 365 years in prison for committing six killings - those of Donna Lauria, Christine Freund, Virginia Voskerichian, Alexander Esau, Valentina Suriani, and Stacy Moskowitz; his other victims - Jody Valenti, Carl Denaro, Rosemary Keenan, Donna DeMasi, Joanne Lomino, John Diel, Sal Lupo, Judy Placido, and Robert Violente - survived his attacks, although in many cases were left severely injured. Berkowitz's bloody rampage is chronicled in
Spike Lee
's
1999 film
Summer of Sam
, in which the murderer was portrayed by
Michael Badalucco
.
1979
-
Bryan Allen
won the second
Kremer prize
- a none-too-shabby £100,000 - for a man-powered flight across the
English Channel
in the
Gossamer Albatross
; he'd also won the first Kremer prize as well - only £50,000, but still nice - in August 1977, also piloting a plane owned by Dr.
Paul MacCready
.
1987
- The
Central African Republic
's former self-proclaimed Emperor
Jean-Bédel Bokassa
was sentenced to death for crimes he had committed during his 13-year rule.
1990
- On a day now celebrated as
Russia Day
, the parliament of the
Russian Federation
formally declared its sovereignty.
*
share on:
facebook