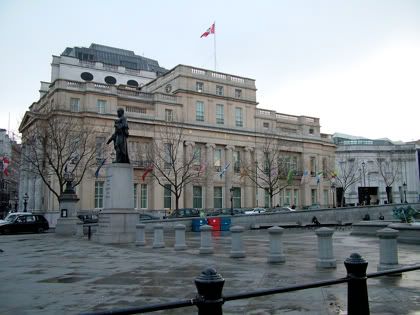 [
Every year Canada House is the site of London's largest
Canada Day celebration
, drawing thousands of revellers to Trafalgar Square to celebrate the culture of Britain's quiet, well-behaved Commonwealth offspring; unlike Australia - which has pretty thoroughly insinuated itself into the rich tapestry of English life in the tried-and-true manner of a middle child - Canada and Canadians whether in the Mother Country or on the world stage have been content to sit back and not draw too much attention to themselves...
]
1149
-
Raymond of Poitiers
was defeated and killed by
Nur ad-Din
at the
Battle of Inab
.
1194
-
Sverre
was crowned
King of Norway
.
1252
- Denmark's King
Abel
was murdered by a wheelwright named Henner on Husum Bridge near
Eiderstedt
, following the shortest reign in that country's history; since his son Valdemar was being held prisoner by the Archbishop of Cologne at the time, Abel's brother would be crowned
Christopher I
at
Lund Cathedral
on Christmas Day.
1444
- Albania's national hero
Skanderbeg
defeated an Ottoman invasion force commanded by Ali Pasha at the
Battle of Torvioll
.
1613
- London's
Globe Theatre
burnt to the ground during a performance of
William Shakespeare
's play
Henry VIII
when a shot from a prop cannon set the thatched roof on fire.
1644
- England's King
Charles I
defeated a
Parliamentarian
detachment under
Sir William Waller
at the
Battle of Cropredy Bridge
- making it the last battle won by an English King on English soil.
1659
- The Russians, led by
Prince Trubetskoy
were defeated by the Ukrainian armies of
Ivan Vyhovsky
in the
Battle of Konotop
.
1888
-
George Frideric Handel
's
Israel in Egypt
became the first music ever recorded, when the oratorio was preserved on a wax cylinder at
The Crystal Palace
by Col.
George Gouraud
.
1914
-
Jina Guseva
attempted to assassinate
Grigori Rasputin
while he was on a visit to his Siberian home town of Pokrovskoye; Rasputin survived the knife attack, and history does not record what became of Guseva following her placement in an asylum for having committed it.
1925
-
Canada House
was opened, in London's
Trafalgar Square
, by King
George V
and
Queen Mary
.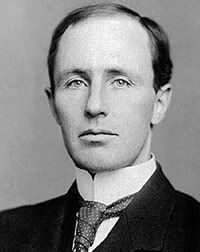 1926
-
Arthur Meighen
(
shown, at right
) returned to office as
Prime Minister of Canada
; unlike his first term, which lasted a comparably lengthy 17 months between July 1920 and December 1921, this second term would not last twelve weeks*, at which time the fragile Conservative-Unionist coalition assembled by his predecessor Sir
Robert Borden
would topple before the mighty Liberal Party and its indefatigable leader,
Mackenzie King
.
*In addition to owning the historical footnote of Canada's shortest-serving head of government, Meighen was also the first Prime Minister to serve as a Member of Parliament from Manitoba.
1928
- The
Outerbridge Crossing
and
Goethals Bridge
in the New York City borough of
Staten Island
both opened.
1956
- The
Federal-Aid Highway Act of 1956
was signed by President
Dwight D. Eisenhower
, officially creating America's
Interstate Highway System
.
1967
- Hollywood actress
Jayne Mansfield
died when when the car in which she was a passenger struck the rear of a tanker truck on
US Highway 90
outside New Orleans... Also killed was her driver, Ronnie Harrison; her three children - Miklós, Zoltán, and
Mariska
, who were passengers in the back seat of the
1966 Buick Electra 225
belonging to Mansfield's latest employer, supper club impresario Gus Stevens - were uninjured. Mansfield, on the other hand, was scalped* as part of a massive head injury caused when the front end of the vehicle went under the truck.
*Not decapitated, as legend would have it.
1976
- The
Seychelles
became independent from the United Kingdom.
1995
- During NASA's
STS-71
space shuttle mission
Atlantis
docked with the Russian space station
Mir
for the first time.
2001
- The British government
announced
that a
£3.6m
memorial fountain
- designed by
Kathryn Gustafson
and dedicated to
Diana, Princess of Wales
- would be placed in London's
Hyde Park
; it was opened by
HM The Queen
in July 2006.
2006
- The
US Supreme Court
ruled, in
Hamdan v. Rumsfeld,
that President
George W. Bush
's plan to try
Guantanamo Bay detainees
in military tribunals violated US and international law.
2007
-
Apple Inc.
released the
iPhone
for the United States market, resulting in the widespread tizzification of Apple acolytes everywhere.
*
share on:
facebook