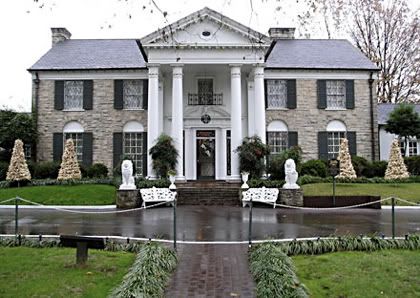 [First opened to the public on this day in 1982, Graceland was was listed in the National Register of Historic Places in November 1991 and declared a National Historic Landmark on March 2006. It remains the second most-visited private home in America - after the White House.]
1099
- The
Siege of Jerusalem
began; taking back the city from Muslim occupation had been the principal purpose of the
First Crusade
.
1494
- Spain and Portugal signed the
Treaty of Tordesillas
, which divided the New World between the two countries, in keeping with a decree made by the Spanish-born Pope
Alexander VI
.
1654
-
Louis XIV
was crowned King of France.
1692
- The Jamaican town of
Port Royal
was hit by a catastrophic earthquake, causing two-thirds of it to sink into the Caribbean; in just three minutes, 1,600 people were killed and 3,000 were seriously injured. The calamity caused a shift of legislative and commercial responsibility to
Kingston
, which is still Jamaica's capital today.
1776
-
Richard Henry Lee
presented the
Lee Resolution
to the
Continental Congress
; the motion was seconded by
John Adams
, and led to the drafting of the
Declaration of Independence
.
1863
- During the so-called
French intervention
, Mexico City was captured by French troops.
1905
- Norway
dissolved
its
union with Sweden
.
1906
- The
Cunard Line
's ill-fated
RMS

Lusitania
was launched at the
John Brown Shipyard
in
Glasgow.
1919
- During the
Sette giugno
riot four people - Ġużeppi Bajjada, Manwel Attard, Wenzu Dyer and Karmenu Abela - were killed in
Valletta
; the event is still commemorated on this day in Malta.
1940
- Norway's King
Haakon VII
,
Crown Prince
Olav
and the Norwegian government left
Tromsø
aboard
HMS Devonshire
(escorted by
HMS Glorious
,
HMS Acasta
, and
HMS Ardent
) to go into exile in London; five years later to the day the King and his family returned to Oslo.
1945
-
Benjamin Britten
's opera
Peter Grimes
- based in part on 'Letter XXII' of
George Crabbe
's 24 poem collection
The Borough
(published in 1810) and with a libretto adapted by
Montagu Slater
- was premiered at
Sadler's Wells
in London, conducted by
Reginald Goodall
. When it was broadcast in its entirety on the radio just ten days later it became the first to be thus transmitted by the BBC.
1948
-
Edvard Beneš
resigned as President of Czechoslovakia rather than signing a Constitution making his nation a Communist state.
1955
-
Lux Radio Theater
signed off the air permanently; the show, first launched in New York on NBC's
Blue Network
in 1934, featured radio adaptations of Broadway shows and popular films.
1965
- The US Supreme Court issued its decision in the case of
Griswold v. Connecticut
, effectively legalizing the use of
contraception
by married couples.
1968
- The body of assassinated Senator
Robert F. Kennedy
was flown to New York City, where it lay in state at
St. Patrick's Cathedral
.
1981
- The
Israeli Air Force
destroyed Iraq's
Osiraq
nuclear reactor
during
Operation Opera
; the facility could have been used to make
nuclear weapons
.
1982
- Priscilla Presley opened Graceland to the public, although in an all-too rare display of good taste for the 23-room mansion the bathroom where Elvis Presley had died five years earlier was kept off-limits.
1991
- The Philippines'
Mount Pinatubo
exploded, generating an ash column 7 km (4.5 miles) high.
2001
- British Prime Minister
Tony Blair
's
New Labour Party
won a second consecutive landslide victory in a
General Election
.
*
share on:
facebook