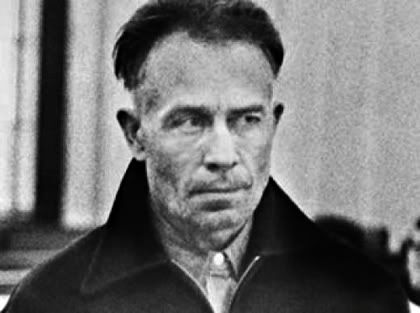 As a serial killer Ed Gein* was never going to win any awards. While he's known to have killed two people, and is suspected in the deaths of ten more, those numbers aren't even going to get a mention on the
Six O'Clock News
these days unless there's some kind of weird kink involved, which is where Gein's story starts to get newsworthy...
Naturally, his childhood was a disaster, destroyed in part by a violent, alcoholic father; whatever joy his father didn't manage to wring from the life of his young son the boy's devoutly Christian mother (and her fondness for the Book of Revelations) did. Gein - born in August 1906 - was also a slight child with an effeminate manner, which meant that he couldn't even find solace in his peer group at school, which he left anyway after the seventh grade. In other words, being raised by monsters turned him into a monster, and so he never had much of a chance to be anything else.
Following the death of his father from a heart attack in 1940 and the mysterious death of his brother Henry in May 1944**, Gein lived alone on a remote farm outside
Plainfield
, Wisconsin, with only his mother for company. His mother's own death from a series of strokes just months later in 1945 left him all alone in the world; thanks to his mother's teachings he was unable to form friendships, let alone with women. It was during these years that Gein began visiting area graveyards and exhuming the bodies of recently deceased middle-aged women to harvest their body parts as macabre trophies.
For some reason known only to Gein - he may, in fact, have been looking to replace his mother - he killed local hardware store owner Bernice Worden in
November 1957
. During their investigation of that crime, police not only discovered Worden's body in a shed on his property, they also discovered the evidence of Gein's other nocturnal activities, including definitive evidence that linked him to the murder, three years earlier, of another local woman named Mary Hogan - he'd kept her face and scalp and fashioned it into a mask.
Ed Gein's crimes so riveted people that it was only a matter of time before his grisly influence crept into the culture; the characters of
Norman Bates
(
Psycho
),
Leatherface
(
The Texas Chainsaw Massacre
), and
Buffalo Bill
(
The Silence of the Lambs
) and their stories were all based, in part, on the life and crimes of Ed Gein who, on this day in 1984, finally found peace when he died of respiratory failure while incarcerated at the
Mendota Mental Health Institute
in Madison, Wisconsin; he was 77. His place of burial - next to his mother, in Plainfield Cemetery - is currently unmarked, because ghoulish souvenir seekers first vandalized then stole his headstone***, for which he should consider himself lucky.
Thanks in part to the bad name people like him have given it, very few people rob graves anymore, for which he should consider himself grateful.
*Pronounced GEEN, with a hard G like 'ghoul'.
**Henry Gein allegedly died while fighting a wildfire near the family farm, even though the cause of death was several blunt traumas to the skull.
***The headstone was recovered near Seattle the year after it was stolen, and is currently kept at a museum in
Wautoma, Wisconsin
.


*



share on:
facebook