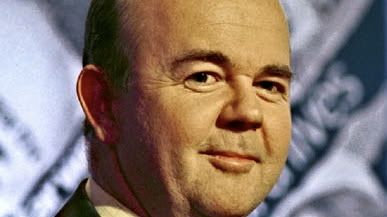 In many ways the editor of the satirical magazine
Private Eye
would not seem to be the ideal candidate for television presenter; an elfin short, prematurely balding, Oxford-educated journalist who frequently seems too smart for his own good and who is cute as a button but far from a pretty boy by all rights ought to be the object of considerable apathy from the British public.
Yet in 1990 Ian Hislop undertook a job as a panelist and team captain on the BBC's current affairs news quiz
Have I Got News For You
, embarking upon a second career in the public eye; eighteen years and thirty-six series later, Hislop has seen hosts come and go (including
Angus Deayton
*) and has long since settled into an uproariously adversarial relationship with his fellow team captain
Paul Merton
.
Hislop is British society's David, taking much-deserved pot-shots at various Goliaths such as the utterly loathsome
Robert Maxwell
, who once sued Hislop and
Private Eye
for characterizing him as a villain. Once the true extent of Maxwell's villainy was revealed, though, Hislop's High Court loss - to the tune of £60,000 - became one of his greatest moral victories, and ever since then the so-called 'most sued man in British history' has become increasingly impregnable to Britain's draconian anti-libel laws.
In addition to
Have I Got News For You
, Hislop has presented an episode of the genealogy programme
Who Do You Think You Are?
, twice guested on
Room 101
, and hosted a special on the life of Lord
Robert Baden-Powell
, the hero of the
Siege of Mafeking
whose book
Scouting for Boys
inspired the founding of the
Boy Scout
movement.
*Who it turns out had to go because he came.


*



share on:
facebook