On this day in 1975 disgraced Teamsters president Jimmy Hoffa went missing from the parking lot of the
Machus Red Fox
restaurant in suburban Detroit, where he'd been due to meet fellow labour leaders Anthony 'Tony Jack' Giacalone from
Detroit
and Anthony 'Tony Pro' Provenzano of Union City, New Jersey; from this simple event has come one of the greatest mysteries of modern times...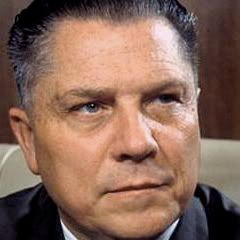 The question of who killed the once-powerful labour leader - as much as where his body might be - has electrified the popular media practically from the moment it occurred.
Since theories are like assholes*, Hoffa's disappearance practically became a cottage industry over the ensuing thirty years. Naturally enough, the FBI had its own theory - the infamous Hoffex Memo - which led the pack of wanton speculation and outright lies; the first break in the case - leading many to consider
the mystery solved
- came with the deathbed confession of
Frank Sheeran
, which appeared in
Charles Brandt
's
2004 book
I Heard You Paint Houses
. The simple answer derived from the book is that Hoffa was abducted from the parking lot, shot at a home in a suburb northeast of Detroit, then cremated within an hour and scattered the same day at the nearby Grand Lawn Cemetery.
Hoffa was the subject of the
1992 movie
, aptly entitled
Hoffa
, in which the man himself was played by the man himself,
Jack Nicholson
.
*E'rybody gots one.
*
share on:
facebook