Television lost one of its brightest stars on this day in 2008 when
Estelle Getty
- who for seven seasons played Sophia Petrillo on
The Golden Girls
* - succumbed to natural causes at her Los Angeles home just three days before her 85th birthday. Getty had been battling
Lewy body dementia
.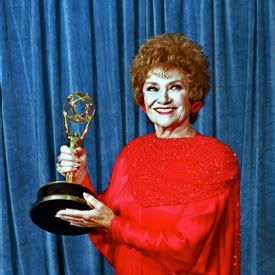 Although it would seem that Getty was a late-comer to show business, she was in fact a seasoned stage veteran; she not only got her break in New York City's
Yiddish theater
but also trod the boards as a comedienne in the Catskills - the so-called
Borscht Belt
- before landing the role of
Harvey Fierstein
's mother on Broadway in the play
Torch Song Trilogy
- also opposite a very young
Matthew Broderick
.
Despite being one year younger than
Beatrice Arthur
, Getty submitted to being aged in order to play Sophia, which is the sort of precaution TV producers have taken ever since
Irene Ryan
agreed to be biddied up in order to play Granny on
The Beverly Hillbillies
; alas, similar precautions weren't taken with
Marion Lorne
, who died in 1968 during the run of
Bewitched,
thus depriving viewers of Aunt Clara's priceless loopiness for that show's final three seasons.
Getty won a Golden Globe in 1986 and an Emmy in 1988 for her portrayal of Sophia; she also won a
Golden Raspberry
Award in 1992 for her part - opposite
Sylvester Stallone
- in
Stop! Or My Mom Will Shoot
. My inclination, though, is to blame Stallone for that one; film fans may remember (but wish they didn't) that time he also tried to ruin
Dolly Parton
's career with
Rhinestone
in 1984.
So while Estelle Getty will be sorely missed, her verve, killer smile, and inherent humanity live on; to any of you jonesing for a Sophia fix having just read this may I suggest you check out
The Lanai
, on YouTube, and catch up on some of those great episodes of
The Golden Girls
you might have missed. Or, you know, really splash out and buy them on
DVD
.
*As well as one season on the spin-off
The Golden Palace
** and the occasional appearance on
Empty Nest
.
**Which featured an early appearance by Don Cheadle!
*
share on:
facebook