One of the most distinct faces (not to mention voices) in the history of television belonged to Alice Ghostley, a veteran character actress whose career spanned the first fifty years of the medium; from her early appearances on shows like
Bewitched
and
Mayberry R.F.D.
to the defining role of her career - that of
Bernice Clifton
on
Designing Women
- Ghostley was less an actor than a brand, and if one had a role which called for a slightly befuddled older lady with a tart tongue she was your go-to gal...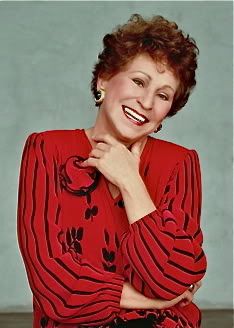 Naturally enough, Ghostley's talent was too large to remain confined to such a small screen; she won the
Tony Award
for Best Featured Actress in a Play in 1965 for her role as Mavis Parodus Bryson in
Lorraine Hansberry
's
The Sign in Sidney Brustein's Window
, and in 1978 replaced
Dorothy Loudon
as Miss Hannigan in the original Broadway run of
Annie
. Among her many movie roles was a memorable turn in
Mike Nichols
'
1967 film
The Graduate
, in which she appeared with
Marion Lorne
, the actress she was hired to replace in
Bewitched
following Lorne's death in May 1968. She was also in
To Kill a Mockingbird
(1962) - playing Stephanie Crawford, the fussy aunt of Dill Harris - and had a small but funny part as Mrs. Murdock (the shop teacher) in
Grease.
Ghostley even got the chance to accept an Academy Award - albeit on behalf of her friend
Maggie Smith
, who was awarded Oscar gold in 1970 for her performance of the title role in
The Prime of Miss Jean Brodie
.
Ghostley's reward for years of yeoman service on sitcoms - including
Good Times
,
Maude
,
One Day at a Time
,
The Odd Couple
,
What's Happening!!
,
The Golden Girls,
and
Evening Shade
among many others - was the coveted feature role on
Designing Women
, an opportunity rife with potential for hit-and-run wisecracking previously filled by
Meshach Taylor
's
Anthony Bouvier
. She took to it with her usual elan, earning herself an Emmy nomination in 1992.
Alice Ghostley - born on this day in 1923 - finally fulfilled the promise of her surname in September 2007, four years after the death of her husband of fifty years, Felice Orlandi.

*
share on:
facebook