While television audiences of the 1950s may have loved Lucy, they could also be said to have been inordinately fond of Ethel as well - at least as she was portrayed by Vivian Vance; yet, even as the viewing public embraced Ethel both instantly and enthusiastically, it would take a bit of convincing on the part of the woman who played Lucy...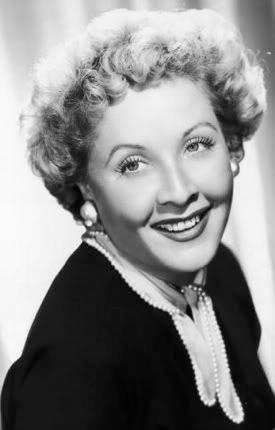 It seems that
Lucille Ball
originally wanted her friend
Bea Benaderet
for the part, only she was unable to accept it due to a scheduling conflict; a visit to the theatre with
Desi Arnaz
to see Vance in
The Voice of the Turtle
helped to change her mind. Still, while the backstage story of
I Love Lucy
is nearly as entertaining as the show itself it's also in direct contrast to the warm chemistry between its four leads as shown on camera.
First there was the issue of Vance's appearance; considerable trouble had been taken to present 40-year-old Ball in the most flattering light possible*, while 42-year-old Vance had a more natural loveliness, owing to her inherent vivacity, that even the crudeness of early television couldn't disguise. The fear was that the second banana (Vance) would outshine the star (Ball) - an unthinkable possibility. To this end, Vance was given wigs and dresses to wear which played up the character's frumpiness at the expense of the actress' beauty; rumours abound that she was even padded, while Lucy herself was being cinched into corsets.
Vance also had trouble with her co-star
William Frawley
, who was not only 22 years older than her but a cantankerous, bitter alcoholic besides; despite their terrific onscreen chemistry, when the cameras stopped rolling they hated each other. Clearly, this gave the Mertzes - who'd only just met in real life - the same energy in their onscreen relationship as an old married couple. Still, when
I Love Lucy
went off the air in 1957, Vance flatly refused to appear in a proposed spin-off featuring herself and Frawley in their iconic roles. For all her trouble, though, Vance became the first winner of the Best Supporting Actress Emmy in February 1954, and would be nominated three more times in all.
Vance later appeared with her (by now) good friend Lucy in
The Lucy Show
from 1962-1965, as well as being allowed to appear more glamourous and playing a character with the same first name - she'd grown weary of being called Ethel for years; while the new show didn't have nearly the zing of its predecessor, it was still a big hit. It even gave Vance the opportunity for a second first: she became the first to play a divorcee on American television.
Her last public exposure was in a well-liked
series of TV commercials
for Maxwell House coffee.
Vivian Vance died on this day 1979 following a battle with breast cancer and a stroke, which had left her partially paralyzed; seeing as she had no children, the
Pop Culture Institute
would like to adopt her (in keeping with our long-standing policy) and so help to fulfill the primary role of offspring - namely, that of keeping her memory alive.
*Not only was it the first sitcom shot on film rather than videotape,
I Love Lucy
was also lighted like a movie and photographed by Karl Freund, who'd made his career making actresses 'of a certain age' look like the ingenues they thought they still were.
*
share on:
facebook