For anyone whose stock in trade is words - even a blogger - Samuel Johnson is a towering figure. If all he'd ever done was compile a
Dictionary of the English Language
he'd have earned his place in history; as it is, he was also journalist, poet, essayist, moralist, novelist, literary critic, biographer, and editor. So prolific and admired was he that his biography,
James Boswell
's
Life of Samuel Johnson
, is either a consummate tribute to a man of enviable accomplishment or else something of an epic reacharound, depending on your point of view.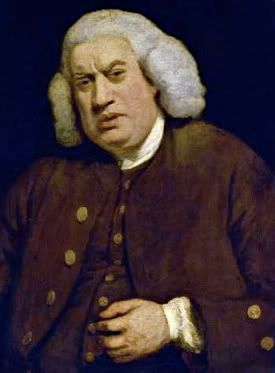 Born on this day in 1709, Johnson was a precocious child who rose above his humble beginnings - writing for the yellow presses of London's
Grub Street
- having already overcome
scrofula
(for the treatment of which he received the royal touch at
St James's Palace
by
Queen Anne
herself in March 1712 - unsuccessfully it turns out) and despite a lifelong battle with what has been posthumously diagnosed as
Tourette syndrome
.
Given that Boswell's
biography
of him is essentially a phone book, I doubt Blogspot has the bandwidth* to let me replicate it here; suffice it to say, Johnson was more than a man of letters - he was a celebrity, and this was back in the days before every third person was a celebrity!
Samuel Johnson's pop culture presence reached its apex when he was portrayed by
Robbie Coltrane
in the third series of
Blackadder
, in the episode entitled
Ink and Incapability
in September 1987.
*And I know I don't have the stamina.

*
share on:
facebook