Inasmuch as I love porn, I am also the first to accept that its corrosive aspect - plus the veritable bombardment of negative messages it contains* - are as apt to poison its participants, be they creator or consumer, as not. That said, I still love it, and credit porn with preventing any number of disasters, as it has been the only sexual outlet available to me for vast periods of my teenage and adult life.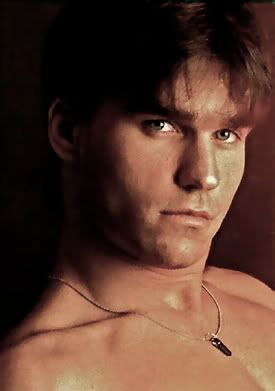 One of the models whose body of work best expresses this dichotomy is
Joey Stefano
; not only is he the quintessential fantasy figure**, off camera his life wasn't at all improved by affiliating with an industry notoriously callous towards those it makes large profits to exploit.
Born on the first day of 1968 in Chester, Pennsylvania, Joey Stefano drifted to New York at the age of fifteen following the death of his father. Supporting himself by prostitution and its related endeavours (namely stripping, which he did at Manhattan's notorious gay burlesque house, the Show Theater) it was there he met gay porn icon Tony Davis, who convinced him to de-camp to Los Angeles and hook up with a then-emerging porn auteur named
Chi Chi LaRue
; together they would make such gay porn classics as
More of a Man
and
My Cousin Danny
.
For awhile Stefano was living the high life... If only his meteoric rise to porn idol hadn't been compounded with an existing drug problem and a self-destructive streak he might have survived it. As it is, the pinnacle of his career came in 1992 when
Madonna
*** cast him in her 'bend me over the' coffee table book
Sex
.
Joey Stefano died on this day in 1994; although he was HIV-positive at the time, his body contained elevated amounts of four different drugs, any one of which could have killed him. His story is elegantly told in Charles Isherwood's book
Wonder Bread and Ecstasy: The Life and Death of Joey Stefano
. Or, to hear about his life in his own words,
click here...

*To be fair, though, depending on your perspective those negative messages may merely be read into the medium, rather than inherent in it.
**
The unprecedented intimacy which porn promises - and the access it offers to super hot guys, the kind who wouldn't give me time of day in real life - is largely to blame for why I love it so much in the first place.
***Herself no stranger to the gay male psyche.

*
share on:
facebook