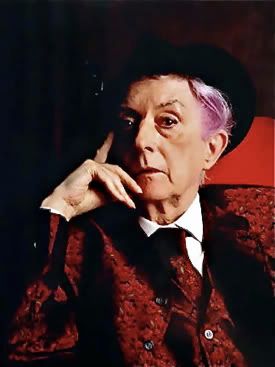 Publication of his
1968 memoir
The Naked Civil Servant
scandalized a society clearly in need of scandalizing; in being among the first to force the British reading public to come to terms with its own homophobia not only did Quentin Crisp secure his legacy, he made life easier for subsequent generations of homos - not to mention eccentrics...
Born Christmas Day 1908, as early as 1930 Crisp was a fixture of the British capital, haunting the pubs and dive bars of
Soho
in search of like-minded companions; although he did find some* he found more foes than friends, all of which anecdotes eventually made their way into his book.
In 1975
The Naked Civil Servant
was made into a
television movie
starring
John Hurt
; buoyed by the success of the film (which, in turn, boosted the sales of his book) Crisp moved to New York, where he would remain until his death on this day in 1999**. In the intervening years, Crisp distinguished himself by providing opinionated sound-bites to the press and 'singing for his supper', taking dinner invitations from anyone willing to pick up the check.
Plans are afoot for Hurt to star in a sequel to
The Naked Civil Servant
entitled
An Englishman In New York
, whose title is derived from the 1987 song by
Sting
of the
same name
***, so look for interest in the life and personality of Quentin Crisp to continue unabated...
*Since we are everywhere, always have been, and always will be...
**Even though he died in England, on the eve of a national speaking tour, his ashes were later scattered over Manhattan.
***From the album
...Nothing Like the Sun
.

*
share on:
facebook