For some reason I've always associated Bettie Page with Vancouver - probably because I'd never heard of her until I'd moved here, and upon moving here found her name and style ubiquitous amongst the hipsters whom I've always admired from afar...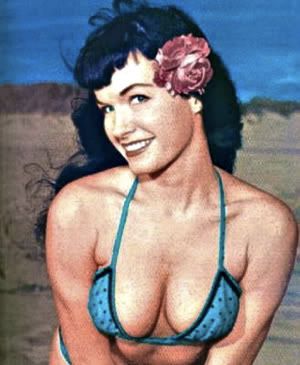 A n y w a y... As sad as it was to receive the news that she had died - on this day in 2008 - my grief was somewhat ameliorated by the realization that the
Pop Culture Institute
now had the ideal justification to post a picture of boobies! Imagine my thrill at finding
such an image
of her that also incorporated Christmas; thank you for that
Hugh Hefner
and
Playboy
! Then (if you'll be so indulgent) imagine my chagrin when, several months later, I discovered that photo had been ordered removed by Photobucket. With any luck this nipple-free shot will pass muster, and survive until this time next year*.
Although Page's later life was marked by a prolonged battle with mental illness which I'm sure was entirely unrelated to her born-again spirituality** the free and easy (not to mention downright kinky) style of her youth not only ensured her notoriety then but meant that even the most mainstream media - meaning
Canada AM
, which makes
The Today Show
look edgy - noted the passing of this once-controversial and no-longer obscure pop culture icon.
Bettie Page was most famously portrayed by
Gretchen Mol
in the
2005 film
The Notorious Bettie Page
. Might I suggest renting it tonight in her honour? If you don't (or even if you do) there may be a spanking in it for you...
*It did. Yay!
**The Truth in Blogging Commission requires me to point out that this is sarcasm.

*
share on:
facebook