In one of the more curious confluences of my life, the kidnapping of Patty Hearst provided me with the impetus for this blog; all the writing, all the research, everything I've done on it, for it, and to it over the past four years came about because, on this day in 2007 (actually February 7th) I was thinking about what kind of posts to include on the

Pop Culture Institute, and I had the brilliant - yet unoriginal - idea to write about history in a glib and revisionist (in other words, contemporary) style. Turning to the BBC's exemplary website On This Day I latched on to the one interesting article I found there for this day, and I was off.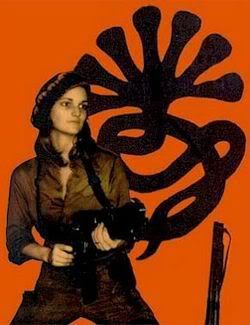 Now, more than 4000 posts later, I've come back around through the year - four times! - to the one that started it all. Given the importance of it, and its place in the history not just of this blog but of the world, I have nonetheless deleted it because it was crap, and started all over with the one you find below. Despite my evident and oft-stated reverence for the past, when it comes to the improvement of this blog nothing like sentimentality over a few hastily assembled words is going to stand in my way.
* * *
A n y w a y... It was on this day in 1974 when 19 year-old newspaper heiress Patty Hearst (granddaughter of tycoon
William Randolph Hearst
) was
kidnapped
from the San Francisco apartment she shared with her fiancé
Steven Weed
. She was taken by a left-wing urban guerrilla group calling itself the
Symbionese Liberation Army
(SLA); their original aim had been to trade her freedom for that of some of the group's members who'd been imprisoned. When the request was refused, they compelled the Hearst family to distribute $6 million dollars in food to the poor of the
Bay Area
, only to renege on their end of the bargain to release her when the food distributed was considered to be of poor quality. Even Hearst herself was heard on an audio recording criticizing the quality of her father's efforts.
The subsequent imprisonment of Patty Hearst remains controversial to this day, largely due to Hearst's own claims of having been brainwashed by the SLA, not to mention the skepticism of many to believe in what is called
Stockholm Syndrome
, but also because she was held by the them in the San Francisco area for more than a year - during which time she took part in a highly publicized April 1974 bank robbery - before the police managed to capture her. During that time, Hearst had taken as her
nom de guerre
Tania.
Hearst was finally arrested for bank robbery in
September 1975
, and her trial began in January 1976; poorly defended by
F. Lee Bailey
, she was sentenced to seven years in prison in March 1976, but had served only 22 months when the remainder of her sentence was commuted by President
Jimmy Carter
. Hearst was released from prison in
February 1979
, just three days shy of the fifth anniversary of her capture, published a memoir of her time with the SLA (
Every Secret Thing
) in 1982, appeared as the mother of a brainwashed kidnap victim in John Waters' camp classic
Cecil B. DeMented
(2000), and was fully pardoned by President
Bill Clinton
in January 2001, on the last day of his presidency - the same day he issued his more notorious pardon, that of Marc Rich.
*
share on:
facebook